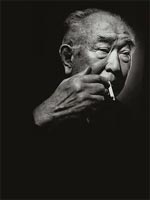 We may be celebrating the 70th birthday of "The Wizard of Oz" today, but the Venice Film Festival has decided to start the party early for another major film-related milestone  coming up next year: the 100-year anniversary of Akira Kurosawa's birth.
I'm sure we can expect more retrospectives of the great man's work when the day rolls around on March 23, 2010, but since Venice has something of a history with the filmmaker ("Rashomon" winning the Golden Lion in 1951 gave a critical boost to his international profile), festival organizers have decided to pay tribute on their own time, with an in-depth panel discussion of his work.
The formidable, internationally-flavored panel will be chaired by venerable film historian Peter Cowie, while the likes of Richard Corliss, Michel Ciment and Donald Richie. Should be a good sit, though I'm disappointed they haven't yet mentioned any screenings to accompany proceedings. Surely that would be advisable? Press release extract after the jump.
The panellists will address the multiple aspects of Kurosawa's figure and work, including: his vision of society and politics; the comparison between Kurosawa and the other great Japanese filmmakers; his relations with Eastern and Western culture (Shakespeare, Gorky, Dostoevsky, van Gogh); the  enthusiastic reception given to Kurosawa by American culture and cinema; comparisons with other great Japanese auteurs such as Ozu and Mizoguchi; their numerous remakes; his sources of inspiration in Japanese culture; Kurosawa's work on the set; his talent as a painter; his use of colour and music; the difficulty he often had in getting funding for his films in Japan; his love of history and the lessons that he has offered to each new generation.