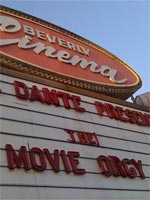 Earlier this morning, Kris pointed you to the news that four features have been added to the Venice lineup: Joe Dante's "The Movie Orgy: Ultimate Version," Angela Ismailos's "Great Directors," Hana Makhmalbaf's "Green Days" and Peter Greenaway's "The Marriage." Under the radar (and out of competition) they may be, but all of them further my anticipation for my trip to the Lido next week.
The former two are intriguing American cinema-themed documentaries: Ismailos's film, her debut, lives up to its rather blunt title by examining the work of ten contemporary helmers, including Todd Haynes, Richard Linklater, John Sayles and David Lynch. Dante's film, meanwhile, is a slightly (and, at 280 minutes, I mean only slightly) more disciplined cut of his mammoth 1968 film, a 7-hour valentine to B-movies of the 1950s and 1960s.
Meanwhile, Screen International reports that the full short film lineup for the fest has been announced, the most high- profile selection (albeit out of competition) coming from Ramin Bahrani, whose features "Goodbye Solo" and "Chop Shop" have made him something of a critics' darling on the American indie scene. His short "Plastic Bag" carries an ecological theme, following "an epic, existential journey of a plastic bag in a world of globalization concerns."
Trendy director, worthy theme, shades of "American Beauty" … one to watch in the shorts race?