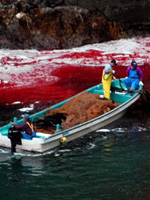 Broome Shire will sever a sister city relationship with a Japanese town that hosts the killing of more than 2000 dolphins a year after an emotion-charged special council meeting this afternoon.More than 50 people, who packed the council chambers' public gallery, greeted the decision with a standing ovation.

Broome Shire president Graeme Campbell said council's unanimous decision was to "respectfully advise" the town of Taiji that Broome would be unable to fulfil its obligation as a sister town while the dolphin killings continued.

But he said the shire recognised the role Taiji played in developing Broome's pearling industry in the 19th century.

As part of a raft of council resolutions, councillors noted the national and international pressure placed on the shire to end the relationship.

The council also resolved to it would like to commit to developing alternative economic opportunities with the Japanese town.
From this piece in The West Australian.  That last bit was, frankly, unexpected.  But welcome nevertheless.