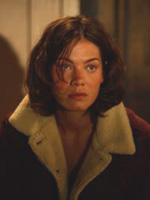 I haven't seen James Mottern's "Trucker," which had a world premiere at the Tribeca Film Festival and was praised in many quarters, most agreeing that Michelle Monaghan's lead performance was awards caliber.
Ironically, the press release (published in part after the jump) quotes The Hollywood Reporter's Roger Friedman front and center just a few days after he bemoaned what he perceived as a weak year for Best Actress contenders.
The strongest contenders right now look to be Meryl Streep in "Julie & Julia," Carey Mulligan in "An Education" and, sight unseen, Hilary Swank in "Amelia."  If enough voters see "The Burning Plain," Charlize Theron certainly has a shot.  But the bubble is big on this race, I'll give Friedman that.
Monterey Media has decided to release the film up for an October 9 release, right in the middle of the awards season.  We all know surprise contenders show up sooner or later.  Maybe we're looking at our first one right here.
A snippet of the press release after the jump.
California based-Monterey Media, which acquired U.S. rights to writer/director James Mottern's TRUCKER starring Michelle Monaghan, has set an October 9 release date for the film, putting it right into the middle of the Fall awards season. Produced by Plum Pictures (The Great World of Sound, Grace is Gone) and Scott Hanson, and executive produced by Hart-Lunsford Pictures and Monaghan, the film also stars Nathan Fillion, Benjamin Bratt, Jimmy Bennett and Joey Lauren Adams. The film will open exclusively in New York theaters and then roll out nationally.

TRUCKER tells the story of Diane Ford (Monaghan), a vivacious young truck driver, who leads a carefree life of long-haul trucking, one night stands and all-night drinking until the evening her estranged 11-year-old son shows up at her door.

"I tried to make Trucker for a few years..one problem I was always faced with was finding a lead actress that really spoke to me on a gut level. I looked for a long time," says Mottern. "Then I saw Michelle Monaghan in a movie called North Country. Her performance in that film is outstanding. But there's this one scene where the character she plays is standing outside her trailer saying good bye to Charlize Theron's character and the camera holds on Michelle for a beat, not saying a word; I saw that and it hit me like a freight train – "There she is. Diane."