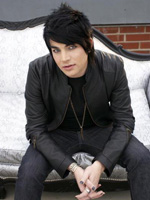 Boy, the "Where the Wild Things Are" items are coming fast and furious this morning.  I didn't plan it this way, I swear.
Anyway, generally around late August I begin to start compiling a list of the original song contenders.  It's generally the last category that begins to fall into place after all, so it's folly to speculate from too far out (which is why you're greeted with the "coming soon" note in the sidebar for seven months out of the year).
A potential nominee could be in our midst with Karen O's "All is Love" from "Where the Wild Things Are," which you can listen to over at MySpace.  Any fan of the Yeah Yeah Yeahs is bound to enjoy this bouncing little ditty.
Meanwhile, Queen guitarist Brian May was apparently "blown away" by Adam Lambert's original song for Roland Emmerich's "2012."  I'm sure that combination is nails on a chalkboard for more than a few people.
Here's May's quote in context:
And I was privileged to hear a track that the guys have finished for Adam Lambert … a song for a forthcoming film, 2012. I have to say I was completely blown away … it's truly sensational. In fact it's so obviously a number one smash, any bookie would be mad to take bets on it. I am not kidding. I'm not easily moved to jelly by male vocalists … but Adam's voice reaches out with sensitivity, depth, maturity, and awesome range and power which will make jaws drop all around the world. Its an awesome performance. No doubt about it. The world of Rock has a bright new star.
Say what you will, but given the publicity around this being Lambert's first official track since his American Idol days, this thing could slide in there.  Of course, it has everything to do with how the tune is implemented.
As we learned last year with the criminal snub of Bruce Springsteen's "The Wrestler," a song has to be used in the context of the overall film to register with voters, who screen small snippets of the film where the song is present.  Seeing as Springsteen song plays over black for about 15 seconds until the credits begin to roll, I suppose one could see how voters would nix it.  Then again, that doesn't explain Eddie Vedder's outright snub in 2007, but oh well.
So what contenders do we have lining up for the 2009 season?
There are a bevy of tracks from Disney's "The Princess and the Frog," spearheaded by Randy Newman (who could also find himself in the running for Best Original Score, come to think of it).  Tunes from the film include "Down in New Orleans," "Almost There," "Dig a Little Deeper," "If I'm a Human" and "I Got Friends on the Other Side," so surely one of those will get in.  Maybe more.
Elsewhere, Mariah Carey recorded the song "100 Percent" with Jermaine Dupri for the film "Precious."  Depending on how the Academy responds to the material, that could certainly be a contender.  And three new songs were composed for Rob Marshall's "Nine": "Cinema Italiana" for Kate Hudson's character, "Take It All" for Marion Cotillard's and a third for actress Sophia Loren (which includes new lyrics over existing score).  Perhaps they could find some room.
Additionally I'm told Jason Reitman's "Up in the Air" could have as many as two original songs in play, both by new, unknown artists.  And if you want to include Linkin Park's "New Divide" in the mix for "Transformers: Revenge of the Fallen," be my guest.  And Sinead O'Connor recorded "Only You" for "The Young Victoria," which was recently acquired for US release by Apparition.
We know Pixar won't be in the mix this year as "Up" is the first film from the studio since "The Incredibles" not to feature an original song.  Maybe there's something from "Fame" that I'm unaware of.  But the well runs dry for me here.  What am I missing?  "Hannah Montana?"  Please no?