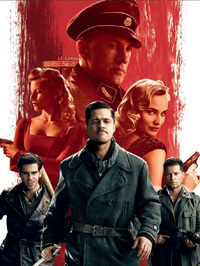 *All historical figures cited are adjusted to today's dollars.
An advertising campaign built around aggressive violence and the reputation of a polarizing director, a late August release date and mixed early word coming out of Cannes were all factors working against "Inglourious Basterds" leading up to its release. All for naught, however, as the film took in a fantastic $37.6 million, marking a new career high for the director.
Films opening at this point in August simply aren't supposed to do this well, with the previous high debut on this particular week in the year belonging to "Blade" with $26.1 million in 1998. For The Weinstein Company, this is very welcome news and serves as only the company's second number one film and first since "Scary Movie 4" in 2006. It is bad news, however, for 2nd grade spelling teachers.
Interestingly enough, the debut is a near mirror image of last week's "District 9," which dropped a very respectable 49% to $18.9 million and second place. The running total stands at $73.5 million and the film continues to generate talk around the water cooler. And by water cooler, of course I mean anonymous virtual chat rooms.
"The Time Traveler's Wife" dipped 46%, probably because people realized that a movie about the person who travels through time would have been way more exciting than the movie about the person who sits around waiting for him to come back.
Tarantino's old partner in crime, Robert Rodriguez, tried to one-up him with pandering children's fantasy but "Shorts" came up short (ba-zing!) at $6.6 million and sixth place. Rodriguez loves to throw one of these kids movies in every few years or so and that's cool, but maybe he should come up with something a little more clever than a rock that grants wishes next time.
Fox's "Post Grad" barely cracks the top 10 at the foot of the table with $2.8 million. I was schooled on the merits of both Alexis Bledel's fame and the quality of "Gilmore Girls" last week, but neither was enough to make this barely a blip on the box office radar. The career resurrection of Michael Keaton is postponed for at least another year.
No movies for me this weekend, although I'm gonna try my best to get to "Beeswax" this afternoon.
Next week sees the closing of the summer movie season with a horror sequel battle royale, the likes of which Hollywood is usually keen to avoid.
"The Final Destination" and "Halloween II" are both follow-ups to either forgettable or maligned franchise films but only one of them is in 3D so we'll give the leg up to "The Final Destination" with $20 million and $18 million for Rob Zombie. I mean, people hated that first movie, right?
Ang Lee also gets in the action with "Taking Woodstock" but a poor release date and virtually no buzz should condemn it to $5 million or so.
What do you guys think? "Final Destination" or "Halloween" for the win?  Here are the weekend's top box office grossers, courtesy of Exhibitor Relations (based on Friday estimates — the actuals chart will be up shortly):