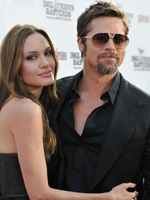 Buried at the bottom of this Independent study of the diminishing star factor in Hollywood was a nugget about Weinstein Company honcho Harvey Weinstein's marketing strategy for "Inglourious Basterds," which had Brad Pitt front and center (and, in a way, made the actor appear to be a bigger element of the film than he in fact was).
Defending the star mold to an extent, Weinstein is quoted as saying "Pitt is a super-superstar at the apex of his popularity and he is a large part of why people want to see this movie."
So I'll put it out to the readership.  With films like "Land of the Lost," "Duplicity," "Funny People" and "Public Enemies" coming up short at the box office despite starring popular actors and actresses, is it fair to chalk the "Inglourious" take up to star appeal?  Is it a Tarantino attraction?  Is it the subject matter of the film?  Is it a combination of all?  Probably the latter, though I think the perfect storm of Pitt and Tarantino made more than a few people curious.  It's a powerful pairing after all.
Your thoughts?