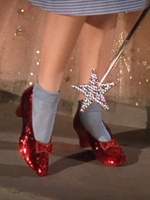 "The Wizard of Oz" is celebrating the 70th anniversary of its US theatrical release on Tuesday.  Today, the UK's Sunday Express is reporting that a sequel set in the present day starring Dakota Fanning as Dorothy's granddaughter could start filming as early as next year and quotes a Warner exec as saying the film will be "darker and more action packed."
Basil Iwanyk is apparently on as a producer.  And this, for me, is the money quote, from co-producer Todd McFarlane (yes, that Todd McFarlane):
You've still got Dorothy trapped in an odd place, but she's much closer to the Ripley character from Alien [Sigourney Weaver] than a helpless singing girl.
Everything's getting re-imagined these days.  Your thoughts?