I was watching the Redskins game this afternoon, doing some work on my computer, and the announcers mentioned something called Redskins Twackle.  I was already on the net so I figured I'd give it a look, and this is what I got: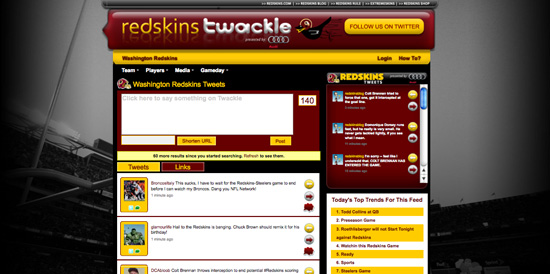 In a nutshell, it's a Twitter interface for Redskins fans.  Obviously something like this would heat up around key moments (games, draft, etc.), but it got me thinking about the on-going concern studios have with finding audiences for their movies and sustaining that interest in any way possible, maximizing the income on their product.
Imagine something like this dedicated to a particular film.  Obviously it wouldn't have the year in and year out appeal of a sports scenario, but there are key moments to be hit along the way for a film release, and it begins way before the film hits theaters.
There's the project's announcement, the buzz during production, the release of promotional materials, the theatrical roll-out (something like this would shine for staggered releases), any awards buzz along the way and finally, home video.  All of them opportunities to crank up exposure.
What's more, I imagine it would be pretty cheap to launch and sustain a site like this.  Studios already launch official sites for most of their films, so something like this could be a unique add-on, a way to keep the conversation going.
Just a thought.