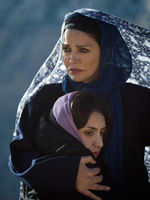 Obviously Hollywood Reporter gossip hound Roger Friedman hasn't been reading our Contenders section, or else he'd know there are plenty of lead actress hopefuls out there, not the dearth he apparently perceives.
Friedman rattles off 12 contenders in a recent piece titled Shortage of "Best Actresses in the Coming Oscar Season," but he misses some key possibilities.  Abbie Cornish in "Bright Star," for one, who didn't necessarily impress me much, but could certainly be in the hunt.  "Precious," meanwhile, is considered a ripe opportunity for supporting contender Mo'Nique, but lead Gabourey Sidibe could certainly find her share of notices.
Gwyneth Paltrow in "Two Lovers" and Zooey Deschanel in "(500) Days of Summer" are two extreme longshot contenders whose films have already been released, but Penelope Cruz deserves to be in the discussion for "Broken Embraces," surely, as does Tilda Swinton in "Julia."
And what about festival breakthrough "The Stoning of Soraya M.," which features a staggering portrayal by former nominee Shohreh Aghdashloo?  Audrey Tautou in "Coco Before Chanel?"  Helen Mirren, who's still to be seen in a potentially dynamic opportunity in Julie Taymor's "The Tempest?"
That's nine more without breaking a sweat.  But if you want to talk about how it all seems terribly moot, given that the race is sure to be down to Carey Mulligan and Meryl Streep, then I'm with you.  But the race for a nod has certainly been quieter (cough2005cough).