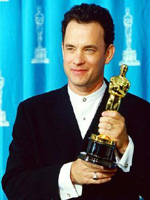 I stumbled onto this item over at Deadline Hollywood Daily earlier this afternoon.  Apparently Tom Hanks, who was elected First Vice-President of the Academy earlier this week, was the group's first choice for the top spot.  In fact, Tom Sherak, who was ultimately elected president, is the one who nominated Hanks in the first place.
Here's what Nikki Finke dug up:
Sherak…thought Hanks could be a "Gregory Peck-type" AMPAS leader. But insiders tell me Hanks declined, saying he "didn't feel he could put the time in". So his name was withdrawn, and that's when Sherak got the gig. At least it's comforting to know that AMPAS' and Sherak's heads were in the right place by wanting an actor instead of two back-to-back studio shills.
Finke goes on to note that last year's telecast producers Laurence Mark and Bill Condon have told the Academy, which wanted them back on this year, that they won't be available.  The group now wants someone with similar motion picture and theatrical experience, and the search is also on for another Hugh Jackman type for emcee.
The powers that be are reading, so here's your opportunity: Who should the Academy tap as producer, director and/or host of the 82nd annual Academy Awards?
One last note: Finke is hearing that Imagine production company head Brian Grazer is near the top of a list of potential Thalberg Award winners. The producers' honor hasn't been handed out since 2001. David Poland,on the other hand, says he expects Alan Ladd Jr. or John Calley, or both, to get the award (which isn't that much of a stretch considering both were under heavy consideration for same last year before Jerry Lewis's Jean Hersholt Humaniatrian Award designation was pushed through).