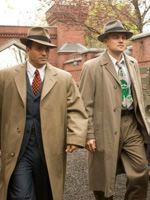 This is a stunning development.  It seems Paramount has decided to move the release date of Martin Scrosese's "Shutter Island" from October 2009, a mere two months away, to February 2010.  The move reflects a similar last minute decision to move "The Soloist" out of last year's fall slate to the Spring 2009 frame.  Nikki Finke has the scoop.
The obvious answer here is money.  An awards campaign was certainly in the cards for "Shutter Island," and those aren't cheap.  But while "The Soloist" ultimately opened and was revealed as less than Oscar-caliber, Scorsese's film has been testing really well and was expected to be a big 2009 awards player.
Still, these are tough times.  Everyone's looking for ways to cut back and deal with the here and now and obviously, an Oscar campaign just didn't seem fiscally responsible for a studio that will already have two major hopefuls in Jason Reitman's "Up in the Air" and Peter Jackson's "The Lovely Bones."
Next year things could be different, and as Finke points out, a February release date didn't work out too bad for "The Silence of the Lambs," another thriller, back in 1991.  An insider is quoted as shrewdly noting "Now that the Academy has Best Picture to 10 films…it will be easier for a movie that came out in the beginning of the year to get nominated for Best Picture."
Regardless, I most certainly wouldn't look to this as an indication of quality.  And truthfully, anyone who thinks this doesn't make sound business sense isn't being honest with themselves and is looking to stir controversy where there is none.  So lighten up on the conspiracy theories.
Chalk it up as one less contender this year.  From a film fan stand-point, it certainly sucks.  The trailer is rather intriguing and the mere thought of Scorsese tackling genre again is exciting.  But we'll have to wait a little bit longer.