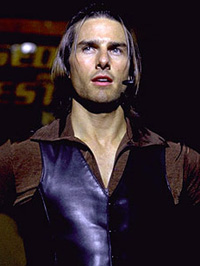 After spending some time this summer watching some excellent films on DVD, I was inspired to write this piece about the great actors' (living, with one exception) greatest performances.
Narrowing it down to one each (brutal, believe me), I think have come up with a list of actors, young and old, that represents some of the finest talent working in film over the last 40 years, and selected the performance I believe each will be remembered for. This is obviously a subjective endeavor, so if you feel different, tell us why.
Let's dive in…
Jack Nicholson
Jack is not often given the credit for being the brilliant actor he is because we far too often expect him to be "just Jack." But when he puts his actor's hat on there simply may not be a greater actor in film history. For me he was never better than he was as Randall Patrick McMurphy in "One Flew Over the Cuckoo's Nest," which is a breathtaking piece of work. Watch him when he's not speaking and see the emotion he packs into this astonishing piece of acting.
Meryl Streep
There is no question here for me. As concentration camp survivor Sophie in "Sophie's Choice," Streep gave not only her best performance, but the single finest performance ever given by a woman, in my view. That terrifying silent scream paralyzes the viewer with heartache and dare I say, shame. Sophie may have survived the camp, but she walks through her life more dead than alive because her soul was left behind and somehow Streep conveys that to the audience.
Robert Duvall
This is a tough call because Duvall was so good in "Apocalypse Now," but I think his best work was in "The Apostle" as a preacher challenged by his own flaws and forced to atone for his sins. A volcanic performance in which Duvall never seems to stop moving or speaking.
Gene Hackman
Though he got his first Oscar for "The French Connection," I do not think Hackman was ever better than he was as a twisted old rascal Royal in "The Royal Tenenbaums."  He's a liar, a crook, a thief, but also a man trying to be a father and husband because he knows he can, and wants to prove it to himself more than anyone else. It's a wonderful piece of work that the Globes recognized but the Academy missed.
Sean Penn
Again, so many to choose from, but I think the most recent performance is the best. Penn won his second Oscar for "Milk" and was brilliant in the film, giving himself over to the character in every way. Never has the actor been so open, so loving, so decent on screen before and touched so many. Just a brilliant piece of work that richly deserved that Oscar.
Johnny Depp
For me, Depp's best work came before the acclaim, way back in "Edward Scissorhands."  He gave a performance that called up the style and humanity of the best of Chaplin. Using his body and eyes he captured our hearts in a superbly visual performance.
Jane Fonda
Having always loved Jane Fonda, this too proved to be a rather tough choice.  She has been brilliant many times. However, her edgy work in "Klute" remains the performance I think of first. As a tough hooker struggling with a predator on her trail, she is a wonder, diving in to give a fearless performance. She proved women could be as realistic as the men.
Ellen Burstyn
Another that broke down so many boundaries for women in the 1970s actually gave her best performance later in her career. As the addicted Sarah in "Requiem for a Dream," Burstyn is astounding and heartbreaking. The final shot of her is terrifying and a moment every teenager in high school should see.
Al Pacino
Pacino has not given a great performance for a long, long time. He has not been consistent since the 1970s when he gave his finest performance as cold-blooded Michael Corleone in "The Godfather Part II." Nearly silent, he radiates danger in every scene he's in, proving this ranting he calls acting these days is but a pale imitation of when the man could perform.
Dustin Hoffman
There is a moment in "Tootsie" when we lose sight of the fact we are watching a man in a woman's clothing playing a role, and give ourselves over to the fact Dorothy Michaels is real. As an out-of-work actor who pretends to be a woman and lands a job, Hoffman is a miracle, finding himself a better man as a woman than he ever was as a man…you know, in a nutshell.  Just incredible.
Holly Hunter
Hunter was astounding in "The Piano" and deservedly won the Oscar for her work. No question this was a major performance from the tiny Texan. It seems she could have easily been a silent screen actress because her performance here requires her to act with her body and face a great deal.
Daniel Day-Lewis
Many believe him to be the finest actor working today and if so, his finest work is without question "There Will Be Blood," in which he plays a monster devoid of any human traits or compassion. Driven by greed and hatred, Day-Lewis creates a portrait of a man we despise, but cannot take our eyes off of.
Emma Thomson
While she won her Oscar for "Howards End" and was nominated for "The Remains of the Day" and "Sense and Sensibility," for me Thompson's finest work was in HBO's "Wit" as an academic dying of cancer and forced to confront her worst fears. Her great mind cannot find an answer for why and Thomson brings that confusion and terror to us in a brilliant performance.
Leonardo DiCaprio
I am sure that the attacks will come but "Revolutionary Road" was DiCaprio's finest hour and it is shameful so few have seen the film. As a young husband and father trapped in a marriage, unable to leave, unable to make anyone happy, his life unravels towards a terrible tragedy that we know will haunt him until his dying day.
Morgan Freeman
As Red in "The Shawshank Redemption," Freeman is sublime, giving a performance that anchors the film and slowly gives way for hope and goodness in a life spent behind bars.  The slow dawning throughout the film as Red learns so much from his friend Andy is a joy to behold, and that final moment together on a beach far away from the cage is a thing of beauty.
Denzel Washington
God I love his work. Washington was never as good as he was in Spkie Lee's superb film "Malcolm X," in which he gives less a performance than channel the spirit of Malcolm into his work and inhabit the character with every fiber of his soul. How did Oscar…? Nope, not going there.
Tom Hanks
Again, an actor with so many choices, under-appreciated by many but among the best we have. For me his best work came in "Cast Away" as Chuck, a Fed-Ex employee who lives and dies by time until he is stranded on a desert island after a horrific plane crash. For him time stops. For the rest of the world, which he will re-join many years later, it marches on. Hanks should have won the Oscar for this one.
Brad Pitt
Not a tough call at all, but certainly not what one might expect. As a haunted outlaw in "The Assassination of Jesse James by the Coward Robert Ford," Pitt gave a performance of unexpected depth and beauty as a man who seems to know his death is approaching. He captures the paranoia of Jesse, the deep love he had for his wife and children, his recklessness and his cold-blooded streak that made him a dangerous man.
Tom Cruise
With the right director, in the right role, Cruise is as good as they get. Paul Thomas Anderson wrote him the role of several lifetimes in "Magnolia" as a twisted, macho, deeply insecure sex therapist hiding many secrets that haunt him. Never has Cruise been so electrifying.
Kate Winslet
So many great performances, and though I was tempted to say her best is "Eternal Sunshine of the Spotless Mind," I have never bee able to shake off her tortured, desperate young wife-mother in "Revolutionary Road," which was barely noticed beyond the Golden Globes. She breaks your heart.
Julianne Moore
Moore is among the best working and was never better than she was in Todd Haynes's "Far from Heaven" as the 1950s housewife who discovers her husband is gay and that her own desires lie elsewhere. Talk about a scandal in the making. How she handles all of this is the strength of the film and Moore deserved the Oscar.
Cate Blanchett
Destined to become for the next generation what Streep was for ours, and already a multiple Oscar nominee, Blanchett still gave her finest performance straight out of the gate.  As a young monarch-to-be in "Elizabeth," Blanchett was frightened, unsure, growing to confident and ruthless.  She dominated the film with a superb performance that announced the arrival of a major talent.
Benicio Del Toro
While he won an Oscar for "Traffic," Del Toro's finest work, for me, was last year in Steven Soderbergh's four-hour epic "Che."  The actor gave less a performance than an inhabitation of a role as the slain revolutionary. Just a sublime performance that sadly so few people have seen.
Heath Ledger
Yes, he was brilliant and diabolical as the Joker but his best work ever was as Ennis Del Marr in "Brokeback Mountain."  As a cowboy who finds that his soul mate happens to be a man he is heartbreaking because he knows to show his love for this man is to destroy his life. Forever to be missed.
Viggo Mortensen
Though I suspect his best work is ahead of him, Mortensen has given some great performances recently. For me he was never so noble or regal or brilliant as he was as Aragorn, turning to Gandalf and whispering "For Frodo" and becoming the King we knew he could, rushing into battle, his mind with his fallen friends (he thinks) in "The Lord of the Rings: The Return of the King."
Agree?  Disagree?  Have at it in the comments section below!