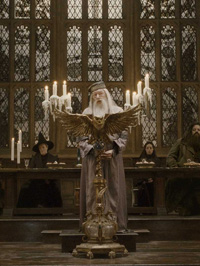 Sets and props can create a time period, an era or simply the feel of a scene.  And the individuals involved in this process are awarded by the Academy in the category of Best Art Direction.
Ironically, the art director of a film is not recognized here. Rather, the production designer – the art department and design head – is awarded alongside the set decorator, who is in charge of the props and overall dressing of the set.
Like Best Costume Design, which I covered a few weeks ago, this category has a tendency to reward period pieces. Even so, fantastical features do tend to show up more often, with nominees frequently overlapping the two genres, seen in a winner such as "Pan's Labyrinth."
John Myrhe has triumphed in this category for both of his collaborations with Rob Marshall, and I fully expect him to earn his fifth nomination this year for "Nine." Recreating the Italy of Federico Fellini will put his talents to the test.
Janet Patterson has found herself a three-time nominee for her costume work. This year, she is also acting as production designer of Jane Campion's "Bright Star." Every indication we have from the film so far is that both her work and the film will be the sort that this branch will embrace.
Sarah Greenwood has managed two nominations in recent years for collaborating with Joe Wright, both for "Atonement" and "Pride & Prejudice." With "Sherlock Holmes," she will once again be recreating a period England, albeit on a much larger scale. If the film proves popular, I fully expect Greenwood to be in the hunt.
Also a recipient of two nominations in recent years is Nathan Crowley, cited for Christopher Nolan's "The Prestige" and "The Dark Knight."  He has yet again handsomely recreated the past, this time for director Michael Mann in "Public Enemies." While the film did not catch fire like many were hoping, I still think it has a shot in the tech fields.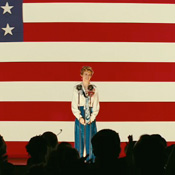 Mira Nair's "Amelia" will also recreate the America of the 1920s and 1930s. Stephanie Carroll has not been an awards magnet to date, but a project like this will be a forum to show her talents. Let's see how the film is received
The passing of the great Henry Bumstead in 2006 meant Clint Eastwood needed to find a new production designer. He turned to industry veteran James Murakami, who earned a nomination for "Changeling" last year.  While "Invictus" will not exactly be a distant period piece, I nevertheless suspect recreating the South Africa of the early 1990s could provide an excellent opportunity for this veteran.
"The Lovely Bones" is also set in the not-too-distant past, the 1970s.  Nevertheless, Peter Jackson's directorial vision requires a lot of his crafts artists. I'll be curious to see what sort of opportunities Naomi Shohan is given.
Then we come to the truly fantastical features.
Stuart Craig has been nominated for two of his past efforts in the "Harry Potter" franchise. "Harry Potter and the Half-Blood Prince" continued to develop more settings in the magical world of J. K. Rowling. Craig, an eight-time nominee and three-time winner, has clearly become very respected in a career spanning more than three decades. Another trip to the Kodak is certainly possible.
For all we know, James Cameron's "Avatar" could have virtually no reliance on sets.  Regardless , it could also provide an opportunity for Rick Carter and Robert Stromburgh to show all their creative genius. I personally can't wait to see more of this film.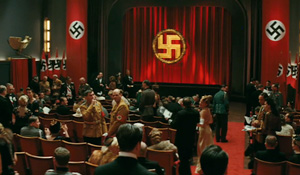 K. K. Barrett has been responsible for creative work on the films of Spike Jonze, Michel Gondry and Sofia Coppola. "Where the Wild Things Are" will be heavily based in the outdoors. Even so, exteriors are not always a huge drawback in this category and, moreover, this will require a huge amount of creativity.
I'll end by discussing a production designer whose innovative work has been unfortunately ignored by the Academy to date. David Wasco's sets have been integral to the feel of films ranging from "Pulp Fiction" to "The Royal Tenenbaums" to the "Kill Bill" movies. In "Inglourious Basterds," he has probably been granted his most traditional Oscar setting to date: the Second World War. Even so, Tarantino efforts tend not to be "Oscar bait" these days.  Let's see how the film goes down with the public.
Of course, these strike me merely as the most likely films from this vantage point. Others could certainly come along and surprise us!  We'll reassess in a few months.
What about you?  What are your thoughts on the race for Best Art Direction?  Have your say in the comments section below!