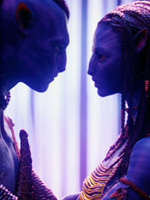 I actually got up early this morning for this. Feels like my younger, not-so-jaded movie-going days. Then again, not so much.
It was "Avatar" fail part 2 with the trailer site still not available as of 7:04.  Then the URLs were not valid until 7:39.  You could, however, view the the trailer at MSN's French site, Microsoft effectively scooping Apple because of the latter's incompetence.  Seriously, why have a big countdown on your site for a week and then drop the ball at the goal line?
Meanwhile, the Apple site lists the film as: "From the director of the 'Titanic.'"  The "Titanic?"  Wow.
Anyway, the trailer is, of course, beautiful.  But I imagine the avatars will catch many off guard.  This is such a vibrant, unique new vision that the instinct is, interestingly enough, to recoil.  But settle in and try to feel the vibe.  I think the imagery is slightly too rushed in appearance, cut together in a dizzying montage that isn't as effective as it could have been.  Beyond that first dolly shot of Worthington looking at the avatar in the tank, there aren't many chances to marinate in the imagery.  But this is just a teaser after all.
Head on over to Apple and take a look at the new trailer, then come back here and give us your thoughts. Six new stills after the jump.