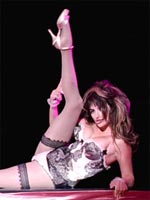 It's a few days old, but I only just found this nugget buried at the tail of a (rather good) David Poland rumination on the potential demise of The Weinstein Company — and since many of you seem to be hungry for details of Rob Marshall's "Nine," I thought it worth sharing. Poland has been casting "Nine" as a "problem movie" for a while now, but here he elaborates slightly on his concerns:
It has test screened… results were mixed… they face a problem with hardcore theater types being unhappy with a majority (all but 7) of the show's songs being cut… but as "The Producers" showed, loyalty to a stage version is not necessarily a good bet.

The film is still in post and you can be sure that all kinds of jiggering is being done, just as it was with "Chicago." Just like "Class" in that show, there is a song on the bubble that may or may not make it. They added 3 brand new songs for the film and seriously reworked a 4th. The film is running good bit longer than "Chicago" (about 30 minutes at the last screening), though fixing that is a big part of what makes Harvey Harvey.
We all knew it was an inevitability that a newly written song or two would be shoehorned into the film for an extra Oscar bid — just as Weinstein so transparently did with "Chicago" — but that's a more dramatic score overhaul than one may have expected.
Personally, I don't think Broadway geeks are a large enough market for Weinstein to get significantly concerned about, in which case the major surgery here points to the comparative obscurity of "Nine" as a source — the stage musical simply isn't as recognizable to the man in the street as "Chicago," hence few will notice, or mind, the liberties taken with it. (By the time they reached the screen, "All That Jazz" and "Razzle Dazzle" had entered the modern American repertoire — "A Call to the Vatican" and "Be Italian," not so much.)
It is this factor, however, that gives me some pause where others are predicting "Nine" as an awards-season juggernaut. Something would probably have to go drastically wrong with the film for it to miss the Academy's list of ten — particularly given that the expansion of the category makes it even more susceptible to campaigning muscle (and, potentially, the return of old-fashioned studio block-voting). Given the inevitably lavish, top-priority campaign Weinstein will mount for "Nine," it should be an obvious beneficiary of the safety net installed by having ten nominees.
But how invested does Hollywood feel in the material? (Yes, it's inspired by Fellini's "8½" — but, as much as I'd love to believe otherwise, I suspect there are an awful lot of people out there to whom that means precisely nothing.)  The only two musicals to make the Best Picture grade in recent years (as high early hopes for "The Phantom of the Opera," "Dreamgirls" and "Sweeney Todd" were variously dashed) were titles with considerable pop appeal: a postmodern jukebox score in the case of "Moulin Rouge!" and a well-worn original songbook in the case of "Chicago."
That may not be their distinguishing factor — "Phantom" and "Dreamgirls" had a number of crossover chestnuts in their repertoire too, after all. But it did provide audiences (and Academy members) with a more immediate access point to the material that "Nine" — however famous the singers paired with the songs — might have to work a little harder to locate.
But hey, there's two slots on that mutating Best Original Song ballot filled — if there is one this year, that is.