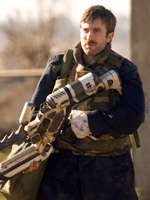 An acquaintance and AMPAS member who was at the "District 9" Academy screening last week, the one Peter Bart reported as a big success based on applause and overall audience reaction, has written to set the record straight:
I was there at the Academy "DISTRICT 9" screening and I think people are getting too carried away. The Academy members also saw JULIE And JULIA this past weekend and that was the one that had the best turnout I've seen in years to a screening. The turnout for "DISTRICT 9" was pretty good and the reaction was very good, but I don't think that the overall reaction was that great to be honest.

The reaction to JULIE AND JULIA was good but a little subdued (I think that they loved the Julia Child segments, the Amy Adams sections less so). During "DISTRICT 9" there were several walkouts (I think that the hand held camera work drove some people nuts and some found the accents a bit hard to understand) . I am saying this, however, as someone who LOVED the film and would be happy to see it nominated frankly, but the fact that this got a phenomenal reaction is someone trying to put too positive a spin on it. Don't get me wrong I would love to see it happen. The film is that good. We will have to wait and see, I guess.
Fair enough.  Bart's quick-to-the-draw reaction could be something else entirely.  As Sasha Stone of Awards Daily wondered aloud, "Is this Variety trying harder to get into the Oscar game in order to get those Oscar ads flowing?"  No comment on that, though I guess it would behoove Vareity, for obvious reasons, to paint as many films as "players" as possible.
Anyway, just passing it on.  At the end of the day I don't think "District 9" has much of a shot at major Oscar notices beyond a long-shot original screenplay berth.  All the tech stuff — visual effects, sound editing, sound mixing — that'll likely be in play no matter what.