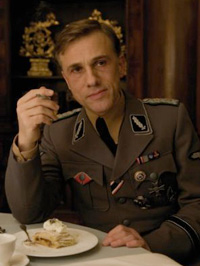 It's been over a month since we cranked out an installment of The Lists, but with Quentin Tarantino's "Inglourious Basterds" set for release on Friday, it seemed a good time to cook up a new collective.
When most people praise Tarantino's skill as a screenwriter, they tend to focus on his well-honed ear for dialogue.  But I have always been much more enchanted by his ability to create a wide array of separately interesting characters that are nevertheless of a piece with the filmmaker's pulp sense of the world.
Each of Tarantino's films are ensembles of one level or another, usually elevated off the page by the performances he gets out of actor eager to take on something fresh.  And no matter the quality of Tarantino's work behind the camera, the material is always, if nothing else, unique.
So a list of the greatest characters ever conceived by the man seemed to be the best course of action.  The list doesn't merely include characters from Tarantino's films as a director, mind you.  Those he conceived in original screenplays filmed by other directors were considered as well.  Eight films are featured on the list, two of them twice.
The only Tarantino-affiliated films that don't appear are "From Dusk Till Dawn" (a personal favorite that, if I was asked on another day, might show up somewhere) and the "Death Proof" segment of "Grindhouse" (which, if I were feeling particularly generous one day, might yield a mention for Kurt Russell's Stuntman Mike).
All other Tarantino extravaganzas are well-represented.  Let's dig in here…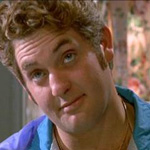 10. Nice Guy Eddie Cabot (Chris Penn, "Reservoir Dogs," 1992)
The sadistic Mr. Blonde or the neurotic Mr. Pink might make for more obvious, "fun" picks from the ensemble of Tarantino's directorial debut, but even with two spots on the list for the film, I never found room for them.  Here at the bottom, however, I had to make a case for Chris Penn's portrayal of a mafioso daddy's boy, an intriguing role that could even be construed as farce.  A fulcrum of sorts for the narrative, Nice Guy Eddie Cabot really has his coming out moment in the Mexican stand-off at film's end.  But Penn also found interesting character crevices in an early scene opposite Lawrence Tierney and Michael Madsen.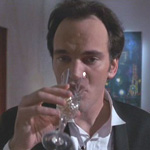 9. Chester Rush (Quentin Tarantino, "Four Rooms," 1995)
"Four Rooms," a series of four short films, followed right on the heels of the success of "Pulp Fiction" but was ultimately nothing to write home about.  It included work from filmmakers Alison Anders, Alexandre Rockwell and Robert Rodriguez, but the only intriguing segment was Tarantino's "The Man From Hollywood," which nevertheless included a healthy does of the director's penchant for cribbing on the classics.  As flamboyant film producer Chester Rsh, Tarantino probably gave his least irritating portrayal (along with "From Dusk Till Dawn") to date as he plays a twisted game with Tim Roth's Ted the Bellhop.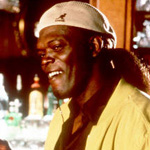 8. Ordell Robbie (Samuel L. Jackson, "Jackie Brown," 1997)
In the only Tarantino film that isn't purely an original work, "Jackie Brown" owes much of its characterizations, of course, to author Elmore Leonard, from whose book "Rum Punch" the film was adapted.  But Tarantino still finds plenty of opportunity to inject his own sense of the world into the story's wide array of characters, and that certainly extends to Samuel L. Jackson's portrayal of Leonard regular Ordell Robbie.  Opposite legend Robert De Niro for much of the film, Jackson's Robbie is a buzz saw, spitting out Tarantino's dialogue like an AK-47 and moving from levity to unbalanced aggression and the drop of a hat.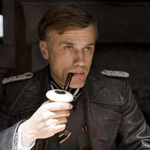 7. Col. Hans Landa (Christoph Waltz, "Inglourious Basterds," 2009)
The only character from Tarantino's latest effort worth discussing at length is carried across the finish line by an expertly rendered performance from Christoph Waltz.  A role that really captures meaning in the writer/director's attraction to long, drawn out discussion and conversation, Col. Hans Landa is an eerie sort of presence who seems to drop the temperature of a room once he enters it.  No Tarantino character, in fact, has had quite the presence Landa does in his scenes, most of which, of course, is owed to Waltz's work, but on the page, the part is just as ominous and unsettling.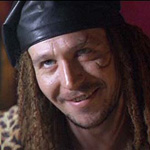 6. Drexl Spivey (Gary Oldman, "True Romance," 1993)
"True Romance" is the first film to pop up on the list that Tarantino didn't actually direct.  He wrote the original screenplay and the Tony Scott-directed film hit the scene between "Reservoir Dogs" and "Pulp Fiction."  Drexl Spivey is the sort of supporting player that wouldn't have even shown up here if it weren't for Gary Oldman's out-of-nowhere blistering performance of the man.  On the page, he's a simple Rasta thug with a glass eye.  Interesting, but certainly not top-tier characterization.  Oldman pumps so much personality into the guy that it becomes a five-minute tour de force.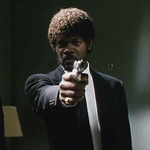 5. Jules Winnfield (Samuel L. Jackson, "Pulp Fiction," 1994)
"Pulp Fiction" was, of course, Tarantino's big arrival.  In some circles it has come to be considered a modern classic, fitting comfortably alongside some of the most innovative and ground-breaking films in the history of the medium.  It has also, perhaps unfairly, become a bar of judgment on Tarantino's work since.  One thing that made the piece pop was its ensemble of intriguing characters, not least of which being Jules Winnfield, a hitman who has a life-changing epiphany early on.  Jackson played the character with the right balance of toughness and introspection, landing an Oscar nomination for his efforts.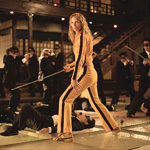 4. Beatrix Kiddo, aka The Bride (Uma Thurman, "Kill Bill," 2003-2004)
When Tarantino finally came back to the scene after a six-year hiatus in 2003 with the first installment of his "Kill Bill" epic, expectations were hight.  And for my money, he nailed it out of the park with the film's first "volume."  Not so much with the second, and it's perhaps the film's frayed conclusion and, ultimately, meandering sensibility that kept the films' central character (played wonderfully by Uma Thurman) from placing a bit higher on the list.  Nevertheless, the exciting pulp quality of the role gives it a special place in modern cinema, and as conceived with Thurman, is one of Tarantino's more interesting creations.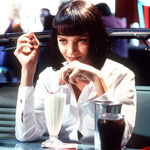 3. Mia Wallace (Uma Thurman, "Pulp Fiction," 1994)
Speaking of Uma Thurman, her work in "Pulp Fiction" ranks here as the film's greatest character.  An indelible mixture of hipster virtue and stylish nostalgia, Mia Wallace (wife of gangster Marcellus Wallace) headlined one of the better segments of "Pulp"'s broken narrative.  The part was so iconic, in fact, that it became a visual cue of sorts for the film, a brand any filmmaker would be thrilled to have define his early work.  Meanwhile, the dance sequence with John Travolta's Vincent Vega has immortalized the film, thanks in no small part to Thurman's characterization of Wallace and all the panache that comes with it.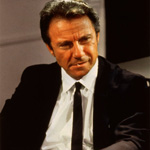 2. Larry Dimmick, aka Mr. White (Harvey Keitel, "Reservoir Dogs," 1992)
To some this might come as a surprise, but for me, "Resevoir Dogs"'s Mr. White, and actor Harvey Keitel's performance of him, has never received a fair shake.  This is an incredibly detailed character, filled out with more nuance than most of Tarantino's creations, in fact.  He is a professional losing his edge, later betrayed, but ultimately — as the film's climax can attest — as tough as he ever was.  And Keitel plays those complexities like a fiddle throughout, while never losing a refreshing touch of realism.  I might go so far as to call it the greatest performance from any Tarantino-directed film to date.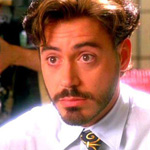 1. Wayne Gale (Robert Downey Jr., "Natural Born Killers," 1994)
Oliver Stone's "Natural Born Killers" sprung from another of Tarantino's original creations, though our featured director is credited with the story, not the screenplay.  Nevertheless, the character of Wayne Gale, an intrepid young journalist who gets swept away in the madness of Mickey and Mallory Knox's cross country shenanigans, sits firmly at the top of this list.  Like all of Tarantino's best characters, this one owes much to the performance, and Robert Downey Jr. was frankly robbed of a supporting actor nomination for his work here.  He found the right strokes of admiration, ambition and attitude to make Gale a living, breathing work of art.
That's how I see things, but what about you?  What are your favorite Tarantino characters?  Have your say in the comments section below!