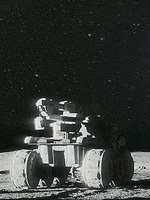 The success of Neill Blomkamp's "District 9," (thoughts) and hopefully (eventually), Duncan Jones's "Moon" (review) has fed into what I've been consistently calling a banner year for sci-fi cinema in 2009.  That is, of course, assuming "Avatar" does come along and lay a giant egg in December.
One of the galvanizing aspects to, well, two of these films, anyway, is the independent focus.  The modestly budgeted aspect that keeps the spirit of high concept indie filmmaking alive.  And in the case of Jones's film, the use of practical effects free of frivolous CGI is cause for celebration.  At least that's what Guardian writer Phelim O'Neill is getting at with a recent piece that declares the film's old-school effects should be a model for today's sci-fi films.
In particular, it's the model work in the film that is so exciting to O'Neill.  There is a humorous "then and now" photo of George Lucas that has made the rounds, the underlying point being that the director lost his creative drive when he began using heavy CGI in the "Star Wars" franchise.  Personally, I think that's silly, because, well, the "Star Wars" films are bad with models or without them (my opinion).  But there is something about the tangible quality of practical effects that makes the reward of watching a film that much richer.  "Moon" is one level on that scale.  "The Dark Knight" is another.  It doesn't have to be a money concern. C reatively, it can have a more visceral impact.
Here's what O'Neill had to say:
I was fortunate enough to visit Moon's model workshop and it was like walking into the pictures I used to pore over in publications such as Starlog and Starburst. Some rather impressive models built for one of the many false-starting Red Dwarf movies were being cannibalised to provide detailing for Moon's lunar mining facility. Bill Pearson, who worked on Alien, Outland, Flash Gordon and others, was winding down his Shepperton base – Moon provided a chance for one final daring mission before his talented crew was disbanded…

CGI has made a lot of great things possible in movies, it's just that it's done so at the expense of a great many still-viable skill sets that will soon vanish into history…For instance, in Cinefex's issue on Alien, there's a section on how Ridley Scott had the xenomorph's translucent head cavity filled with maggots to create some texture and movement – the maggots were sprinkled with LSD and sugar to get them going. Now, it may not have worked but, boy, that's a more fascinating tale than the stories of choosing the right graphics or grading plug-in that fill Cinefex's pages these days.
Read the rest at The Guardian.