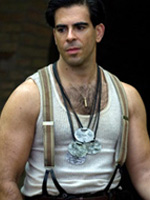 One of the most exciting aspects of Quentin Tarantino's breed of cinema for this cinema obsessive who held the guy in a rather glowing light back in the mid-1990s was the idea that all of the directors' films were connected in some way.  It went beyond the simplicity of, "Hey, cool, Vincent Vega from 'Pulp Fiction' and Vic Vega from 'Reservoir Dogs' are brothers."  It said something about the power of creativity, manifesting a vast fictional world and playing God with its characters.  It was something, for me, that defined Tarantino as unique.
Perhaps because the novelty wore off, perhaps because he got slightly bored with it, Tarantino eased off the throttle on this particular aspect of his films somewhere along the line, leaving people to making stabbing guesses, such as the idea that Samuel L. Jackson's piano player in "Kill Bill" is actually Jules from "Pulp Fiction" walking the earth.  Or perhaps it all just got a bit subtler, I don't know.  I would have liked a vast expansion of all of this, however.  It could have been rather defining and exciting.
Rodrigo Perez at The Playlist has stumbled onto a connection between "Inglourious Basterds" and "True Romance" that keeps the Tarantinoverse light burning a little longer.
Here's the scoop:
Remember Lee Donowitz (the awesome Saul Rubinek) in "True Romance"? The slimy Hollywood film producer of the fictional Vietnam war film, "Coming Home In A Body Bag"?

According to a Q&A last night with Quentin Tarantino in Austin, Texas, post-"Inglorious Basterds," screening, Eli Roths's character Sgt. Donny Donowitz is his father.
Well I'll take it, even though the brazen historical revisionism of "Inglourious Basterds" kind of puts it in a weird place outside of the Tarantino canon.  After all, are we to believe the world inhabited by the Gecko brothers, the Vega brothers, Jules, the Bride, Micky, Mallory and all the rest is one in which…
"INGLOURIOUS BASTERDS" SPOILER WARNING
…the Fuhrer was mowed down under a hail of machine gun fire in the middle of World War II?
END SPOILERS
I'm being a pain in the ass, but, you know, just sayin'.