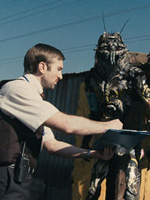 The unexpected fiscal and critical success of "District 9" has stirred the proper awards talk in the right circles.  The film looks to be pretty stiff competition in the nomination races for sound editing, sound mixing and visual effects, perhaps even film editing.  But given the mood of a recent Academy screening here in Los Angeles, as conveyed by Variety's Peter Bart, one might want to consider the film's reach elsewhere.
Applause is a difficult thing to understand in circumstances like this.  Generally, a big ovation at the end of, say, a well-attended press or industry screening, can be chalked up to ever-manipulative publicists doing their part to raise the roof.  But at a screening such as the one this weekend at the Samuel Goldwyn Theater, a screening meant specifically for Academy members, the claps take on a different meaning.  I have a friend, AMPAS member, who always says you can place a smart bet on a film's Oscar chances across the board based on the way applause ebbs and flows during the closing credits.
If that's the case, Sony might have stumbled onto a real live Oscar horse for the season.  Because the response was uncharacteristically enthusiastic for the sci-fi summer closer.
Says Bart:
Some critics missed the boat on this one (including Variety), but at a packed Academy screening over the weekend at the Samuel Goldwyn Theater, the film received the most applause of any movie in a couple of years. That's usually a signal.
Maybe something like an original screenplay nomination could be in the cards?  Or — hey, there are 10 — a Best Picture berth?  In a perfect world, Sharlto Copley would be in the BEst Actor running, but let's not get carried away.
Bart then gets into something that could really cause this film to register in an industry that finds itself struggling to maintain profit margins in the current economy: "District 9" is a film made on the (relative) cheap in the face of similar projects with inflated budgets that bring back dwindling returns.  The year after "Slumdog Millionaire" was crowned largely for turning chicken poo into chicken salad with a fortunate acquisition and a decent box office run, "District 9" could be held up by the Academy as an example of how to not only make smart films, but how to smartly make smart films.  You know, the kind that pay dividends.  Remember those?
More from Bart on that:
The success of the film serves as another reminder that the acquisitions business is far from dead – perhaps some of the acquisitions folks are simply too timorous. Hats off to Peter Jackson for fostering this movie and to Sony's Peter Schlessel for zeroing in on it so fiercely. The director is an unknown named Neill Blomkamp and the producers are Ken Kamins and Bill Block – a one-time agent who keeps popping up with intriguing films.

A year ago "Slumdog Millionaire" went begging for attention until Peter Rice locked it up at Fox Searchlight. This year "Hurt Locker" had trouble finding a buyer and now along comes "District 9" – another superbly made film that any studio should have been proud to release

So the big question: Are there more potential winners out there that the majors are too timorous to touch?
Seriously, a Best Picture nod here makes more sense to me than "Star Trek," and I'm a bigger fan of the Abrams film at the end of the day, so…
Read more at BF Deal Memo.