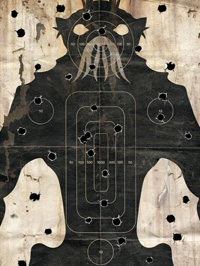 *All historic figures cited are adjusted to today's dollars.
Internet hype doesn't always translate into box office success, but "District 9" was able to live up to the buzz and debut with a strong $37 million and the top spot this weekend. For a film that cost a reported $30 million to make, this is obviously a huge win for Sony and one of the bigger surprises of the summer. As a buddy succinctly put it in a tweet: "'District 9' might be the only movie this year I want to see that I didn't know I wanted to see six months ago."
Credit the fantastic marketing and an interesting/original concept in a summer-friendly genre for the success. The first two weeks of August are typically robust but then the month just dies and only two movies released past the 14th of the month have debuted higher than "District 9" ("Freddy vs. Jason" and "Mortal Kombat"). Audience reception is fantastic so I can see this one sticking around enough to reach $85 million or so. Now, who else is going as Wicus with a prawn arm for Halloween?
"G.I. Joe: The Rise of Cobra" takes second place after a 59% drop to $22.5 million. That actually could have been worse so Paramount will take it. The running total is already $98.8 million and that's enough to encourage the inevitable sequel. Might I suggest the title "G.I. Joe: The Recasting of Channing Tatum?"
Third place goes to "The Time Traveler's Wife" with $19.2 million. I've got nothing to say about this because quite frankly, this movie bores me. I like Rachel McAdams so I wish she'd hurry up and make a movie that looks halfway tolerable again.
"Julie & Julia" dropped a respectable 38% to $12.4 million and that should be the largest drop it experiences during its run. No other direct competition comes into play until "All About Steve" after Labor Day so I expect Meryl and Amy to be the number one choice for adult females for a while.
"The Goods: Live Hard Sell Hard" debuted with a soft $5.4 million, but I don't think Paramount could have expected much more than that. Essentially a Funny-or-Die skit stretched out to feature length, this will have a quick exit from theaters and play on Comedy Central every month for the rest of our lives.
Hayao MIyazaki's "Ponyo" slipped into the top 10 despite a low screen count of 927 by earning $3.5 million and already surpassing the total of "Princess Mononoke." It's got a little ways to go before it can match the all-time anime champ in theaters. That's right people, I'm talking about "Pokemon: The Movie," which made $121.0 million in 1999, and that's borderline criminal.
Busy week for me at the movies. I shelled out $10 for "Public Enemies," "Somers Town" and "District 9." I thought Michael Mann made an inconsistent but interesting movie with brilliant moments but a staggeringly awful performance by Christian Bale. "District 9" gets points for ambition and a terrific first half hour setting up its conceit and environment but then gets silly and loses the power of its themes. "Somers Town" is a shoo-in for my top 10 of the year.
Next week gives us the long-awaited debut of "Inglourious Basterds." One of the world's most famous directors teamed with one of its most famous stars has to equal box office success, right? Mixed reviews and an aggressively violent looking tone might keep some older audiences away but I still see a $20 million start, which is good for this part of August.
QT's good buddy Robert Rodriguez tries to rain on the parade with "Shorts," but who the hell wants to see that? The "Spy Kids" movies and even "The Adventures of Sharkboy and LavaGirl" were hits but I can't bring myself to predict anything more than $9 million.
Fox opens an Alexis Bledel comedy called "Post Grad," which seems to me like it should be coming out when school is finishing, not about to start, but what do I know? I've never even heard of Alexis Bledel. $5 million.
Finally, Disney opens "X-Games 3D: The Movie." I suppose this is meant to attract the extreme sports crowd but I can't think of anything less cool than going to see a 3D movie of an already televised event. $2 million if it's lucky.
What do you guys think?  Here are the weekend's top domestic grossers, courtesy of Exhibitor Relations: