In the course of my daily rummaging, I happened upon this beautiful French one-sheet (pictured left) for Alain Resnais's "Wild Grass"  that instantly takes the lead in my personal "poster of the year" race. (The film, as we recently mentioned, has the honor of opening the New York Film Festival.)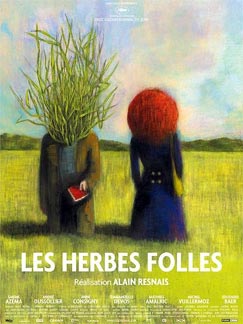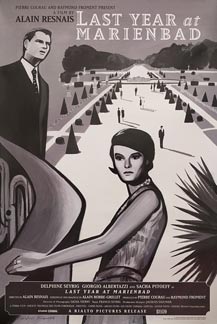 Placing it next to the rather lovely design for last year's re-release of Resnais's 1961 masterpiece "Last Year at Marienbad" raises my hopes that Resnais has lost none of his playful eccentricity in his seven (count 'em, seven) decades of feature filmmaking. It's pretty astonishing to be making films at all at 87; if he's making interesting ones, so much the better. Looking forward to this one.
On a side tangent, I was thinking this morning just how incredible (and wonderful) it is that "Last Year at Marienbad" actually managed to grab a 1961 Oscar nod for Best Original Screenplay. Nominated alongside it? Ingmar Bergman for "Through a Glass Darkly."
Both were beaten by "Divorce Italian Style," which is not as hard to believe as the fact that the Academy once saw fit to nominate three foreign-language screenplays in the category. When will that ever happen again? And what are the odds of them daring to nominate a surreal, subtitled mindfuck along the lines of "Marienbad" these days?
Awarding "Talk to Her" is about as adventurous a move they've made in this, or any other, category lately — and I'm grateful for it — but still, we're talking a whole different realm of accessibility there. Anyway, an idle thought for a Sunday afternoon.