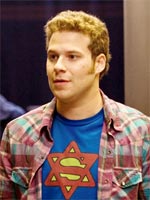 On Friday, John Foote raised the question of which recent films look likely to endure through the coming decades, despite, in many cases, having under-performed on initial release. You responded in your droves.
Interestingly enough, Joe Queenan recently addressed a similar issue in a very good essay for The Guardian, contemplating the odd phenomena that lead certain films to largely escape the notice of critics and audiences in theaters, but then go on to gain cult status on DVD (or, back in the day, home video).
Films he cites as key examples include "Fear and Loathing in Las Vegas," "The Big Lebowski" (which many seem to have forgotten was dismissed by many as a misfire following the crossover success of "Fargo") and "Office Space" (which barely made it to theaters at all), as well as far older titles that slow-burned their way to classic status, such as "The Wizard of Oz" and "It's a Wonderful Life."
When it comes to predicting a similar path for current films, he dismisses naming broadly acclaimed specialty titles with moderate box-office ("The Wrestler," "The Hurt Locker") as too easy, too prestigious.
(I agree: if either of those films are still talked about in 20 years time — and I suspect at least one of them will be — no one could exactly say they were initially dismissed. Critical consensus trumps Oscar endorsement as a factor in this particular game.)
Rather, Queenan looks to two mainstream comedy titles bruised by critics and the public alike — though one arrived with considerably loftier expectations than the other. His advocation for the rehabilitation of maligned February release "Confessions of a Shopaholic" is more tongue-in-cheek, though he makes a convincing argument for the external economic factors that led to its failure.
However, his sincerest defense is reserved for "Funny People," which may have more critical champions than a "Shopaholic," but is nonetheless destined to go down as one of the summer's biggest under-achievers. Suggesting that the film's disastrous commercial performance stems from a combination of its own ungainliness and some very poor marketing (which I discussed recently), he thinks (and hopes) it might grow on the public via the small screen:
Moviegoers and critics alike are forever blasting Hollywood for playing it safe and refusing to do anything unconventional, yet here is an unconventional film, a film that uses the most famous young comedy stars in America to attack precisely the types of films and sneering attitudes that made all of them – including Apatow himself – famous.

Yes, it is too long, but Funny People is nonetheless the most interesting big-budget film to come out of Hollywood this year, and it certainly deserves a wider audience. It will probably have to wait until it comes out in DVD to find that audience, when the public comes to its senses. As for the public, if it keeps turning out in droves on opening weekend for films such as GI Joe and Watchmen, it doesn't deserve to have any good films.
Having recently seen "Funny People" for myself, I can't say I agree. Sometimes a film flops because the studio underestimates the public's discernment and overestimates the film's lovability — or, to put it more plainly, because the film isn't very good. (And before anyone throws up the kneejerk "But 'Transformers' was a hit despite sucking" response, we're talking different markets with very different demands.) If I were to pick the summer title with the best chance of improving its standing further down the road, it'd be "Public Enemies" — but I wouldn't bet the house on it.
Still, an interesting argument and a good read. More here.