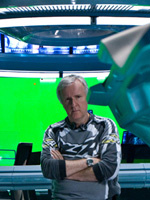 Earlier in the week we told you about Geoff Boucher's exclusive two-part interview with "Avatar" director James Cameron at the Los Angeles Times's Hero Complex blog.  Part two is up now and in it, Cameron gets into the "'Dances With Wolves' in space" thing and talks more about the film's influences:
You see the same theme in "At Play in the Fields of the Lord" and also "The Emerald Forest," which maybe thematically isn't that connected but it did have that clash of civilizations or of cultures. That was another reference point for me. There was some beautiful stuff in that film. I just gathered all this stuff in and then you look at it through the lens of science fiction and it comes out looking very different but is still recognizable in a universal story way. It's almost comfortable for the audience – "I know what kind of tale this is." They're not just sitting there scratching their heads, they're enjoying it and being taken along. And we still have turns and surprises in it, too, things you don't see coming. But the idea that you feel like you are in a classic story, a story that could have been shaped by Rudyard Kipling or Edgar Rice Burroughs.
Read the rest at Hero Complex.