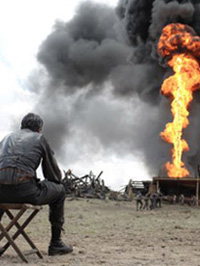 It is nothing new for a film to be released, find no audience, no critical favor, and disappear to be discovered by a new generation and raised to the level of masterpiece. In fact, this has been going on since the silents.
Charlie Chaplin's masterpiece "City Lights" was released four years after the advent of sound, and though popular at the time with both audiences and critics, it was some years later that it was finally hailed as Chaplin's finest work. "The Wizard of Oz," one of the most beloved films of all time that celebrates a 70th anniversary this month, was a dismal box office flop when released in 1939.  It wasn't terribly popular with the critics either, but years later it was finally championed as a work of art and, of course, now the film is considered one of the greatest films of all time and perhaps a more worthy Best Picture choice than the eventual winner that year, "Gone with the Wind."
The "Citizen Kane" tale is so well documented I need not continue, and John Ford's magnificent "The Searchers," written off as just another John Wayne western, was discovered by film school professors who taught its brilliance to such young minds as Martin Scorsese, John Milius and Francis Coppola. Even Stanley Kubrick's "2001: A Space Odyssey" failed out of the gate with both audiences and critics, but within a year of its release, many of those same critics had changed their minds about the film.  Within 10 years it was being declared as important a film as "Citizen Kane."
When "Gandhi" won eight Academy Awards in 1982, no one was terribly surprised. Yet within a year there were rumblings within the Academy that a mistake had been made and the rightful winner should have been "E.T. : The Extra-Terrestrial," now recognized as a sublime work of art. And that same year, "Blade Runner" began its life as a major flop, only to re-discovered on home video over the years and become a cult classic.
Looking back over the last decade or so, which films released since will be recognized 50 years from now? Which films that were passed over by audiences, critics and/or the Oscars will be hailed as masterpieces in the years to come?  I took a stab as choosing a group of films I believe could fall under this label.
"There Will Be Blood" (Paul Thomas Anderson, 2007)
No doubt about it.  The film is already headed there, in fact. The LA Film Critics agreed and it won two Academy Awards, but does anyone really believe "No Country for Old Men" was a better film? Well, of course there are plenty who do, but not me. Paul Anderson channels the spirits of Stevens, Ford, Antonioni and Scorsese while making this film somehow entirely his own. They will be discussing it for generations.
"The Assassination of Jesse James by the Coward Robert Ford" (Andrew Dominik, 2007)
One of the greatest American westerns ever made. Brad Pitt gives a brilliant performance as the psychotic, paranoid and merciless Jesse James, tormented by his inner demons in this curious dance towards death with Bob Ford, played with genius by Casey Affleck. It is incredibly involving, often deeply poignant as James seems to know it is Ford's destiny to murder him. Haunting.
"King Kong" (Peter Jackson, 2005)
Yes, it made millions, and yes, critics loved it.  But in my opinion, not enough. This one was deserving of Best Picture and Best Director attention in my opinion, and in the years ahead will come to be regarded as an extraordinary work that blends visual effects with a heartbreaking story. Some bitched about the length, but I would have sat another hour. And Namoi Watts was robbed of a Best Actress nomination.  Maybe others will agree in years to come.
"The Passion of the Christ" (Mel Gibson, 2004)
"Why should I see this," I was asked by a minister five years ago. I answered without hesitation, "Because you need to know and understand just what this poor man went through that you've dedicated your life to."  I've talked at length about this already, but I think in the years to come, the unwarranted claims of anti-Semitism will fade away and the film will be recognized for the work of art that it is.
"Far From Heaven" (Todd Haynes, 2002)
Todd Haynes's best work is an homage to the work of Douglas Sirk that caught the eye of the New York Film Critics Circle but not the Academy. This might have been the best film of its year.  With superb performances from Julianne Moore, Dennis Quaid, Patricia Clarkson and Dennis Haybert. Beautifully shot, the film explores taboo relationships in the 1950s. Masterful.  It's likely to be taught in film schools for decades.
"Minority Report" (Steven Spielberg, 2002)
A reasonably big hit at the box office, and Roger Ebert's #1 movie of the year, the film never put up the numbers a Cruise-Spielberg film should and audiences never really adored it either. They should have, because Spielberg created one of his darkest films and a very nasty look at what the future might bring.  A noir anchored by a strong performance, it has never been far out of my mind when discussing Spielberg's best.  Maybe others will agree in the future.
"Road to Perdition" (Sam Mendes, 2002)
Okay, some of this is "I hope," but it comes from the heart. I loved Sam Mendes' second film, believing it to be much better than the Oscar-winning "American Beauty." Tom Hanks was outstanding as a gangster on the run from his own family, and Paul Newman quietly chilling as the leader of that mob. Mendes plunges us back in history with astonishing detail, but it is the performances and the superb cinematography that make the film the accomplishment that it is. How did Oscar miss this in a year that "Chicago" won best pic?  No bother, maybe audiences will one day circle back around to it.
"Magnolia" (Paul Thomas Anderson, 1999)
Perhaps the most audacious, daring work of the 1990s, writer/director Paul Thomas Anderson explores the lives of several LA residents in a day that will see their lives collide and change dramatically. It is Altman-esque, but still very much Anderson's film as his firm hand guides these magnificent actors through some of the best work of their careers. Tom Cruise is scalding as a sex therapist training men to conquer woman, Julianne Moore heartbreaking as a drug addicted woman dealing with the guilt over her husband's impending death, Phillip Seymour Hoffman, John C. Reilly, William H. Macy, Jason Robards, and the entire cast…this is why it will be studied.
"Happiness" (Todd Solondz, 1998)
Todd Solondz's alarming study of three sisters and their very different lives is a tough film to watch, and even tougher to admit one admires. My God, the subject matter! One sister is married to a pedophile who has a conversation with his son about being as much (and liking it). Dylan Baker gives a courageous performance as the tormented pervert. Another sister is betrayed by seemingly everyone she encounters and yet another is stalked by her neighbor who will eventually strike up a friendship with a killer living next to him. Bizarre, but brilliant, and forever unsettling.
"The Truman Show" (Peter Weir, 1998)
Who would have thought this Peter Weir-directed, Jim Carrey film would predict the emergence of reality television several years before "Survivor?"  Carrey is Truman, the unknowing star of the biggest show on TV, where his every action, movement and word is captured on a live broadcast around the globe. Living in a massive bubble, his entire world is controlled by a genius producer who sees himself as God. "I am the creator…of a television show…"  Harris rules.  This one will have an impact for its prescience.
What about you?  Which films do you expect will get their due in the future?  Have your say in the comments section below!