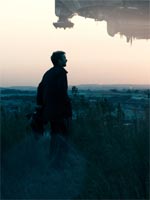 • The New York Film Festival unveiled a decidedly foreign lineup, with Alain Resnais and Pedro Almodovar at either end.
• Speaking of festivals, the long-awaited "The Road" was among the titles added to the Toronto slate this week.
• With everyone excited about "District 9" this week, we took time to chat to the film's breakout star Sharlto Copley.
• Best Film Editing was the subject of this week's installment of Tech Support.
• Meryl Streep called for a shorter Oscar season. She's right, but who will listen?
• Speaking of whom, has the Best Actress race already come down to Streep vs. Carey Mulligan?
• In box office news, "G.I. Joe" made a bucketload of money, while "Julie & Julia" opened slightly below expectations.
• And while we're on such matters, a whole lot of critics got a little mad at American moviegoers.
• What's with all the post-apocalyptic rumination in Hollywood blockbusters?
• And again with an eye to the future, we asked you what recent masterpieces look likely to endure through the decades.