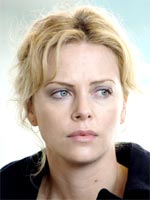 A couple of weeks ago, I wrote about the tortuous release schedule that Guillermo Arriaga's directorial debut "The Burning Plain" has endured since making a respectable bow at Venice almost a year ago. The film's buzz has fluctuated wildly over the months, but it was never softer than in March, when it opened in the UK to an alarmingly weak response.
The hard numbers make for shocking reading: opening on a meager six screens, the film earned a humiliating $10, 626 in two weeks, before disappearing altogether. (For the sake of comparison, another humble Arriaga-penned effort, "The Three Burials of Melquiades Estrada," grossed over 11 times that amount.)
As one of the few people who contributed to that gross, I may have had some reservations about the film — but there's no question it deserved much better. Perhaps spring wasn't the right season for a small prestige item like this.
More than that, I suspect a film as intrinsically American as this one needed to arrive in the UK with some Stateside critical momentum behind it to prod the local press into giving it more coverage. Wrong time, wrong place.
Now, as the film comes on DVD today in the UK, the Telegraph's David Gritten stands up for the film, calling it "easily the most neglected of the year," and wonders just what went wrong in Britain:
Theron and Arriaga had arrived in London to help promote it, but its dismaying box-office takings of £7,349 would barely have covered their air fare and accommodation. A publicity executive with its distributors, Paramount UK, told me shortly afterwards that the company doubted its commercial potential.

"I was sad with the small release of the film – especially in Great Britain, where I have been very well received," Arriaga says. "The British Academy has always been generous with me. I really think it needed a much better release. I'm proud of our movie and our work." He hopes that the film's "real life" will begin when the DVD is released.
Happily, the film looks set for a better reception in its home country, even if it will inevitably be a modest performer. The film's recently released poster and trailer already suggest more marketing effort than we saw in the UK, while interest from the web has picked up — you'll remember that last week, Kris declared his support for the film, declaring  it Arriaga's most effective work yet. David Poland is another fan. Some are even starting to whisper (very quietly, mind you) the "O" word again.
(I do question, however, veteran producer Walter Parkes's assertion, quoted by Gritten, that "Guillermo has quite literally changed the way motion pictures are made." I love the man's work, but that's going a tad far.)