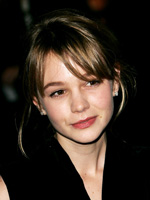 "An Education" and its breakout star Carey Mulligan continue to slay bloggers wherever they go. Chief cheerleader Jeff Wells hasn't stopped talking about the film since its Sundance bow in January, and you'll remember that Kris joined the fan club (with added props for Alfred Molina) in June.
Sasha Stone was sufficiently dazzled by Mulligan's work to place her at the top of a list of today's finest young actresses. Now The Film Experience's Nathaniel Rogers, the guy for whom Best Actress is the most holy of all award categories, has seen the film, and is rendered virtually speechless by Mulligan's performance:
just… WOW

We're still five plus months away from nominations but, for the moment, it looks like a Carey vs. Meryl showdown on March 7th, 2010.
I'm interested to see if the more highbrow critics match this breathless enthusiasm when the film finally get released in October. Could Mulligan be this year's critics' award sweeper? You know it probably won't be Streep. Not that that makes much of a difference to either woman's Oscar chances.
It's curious to me that, so early in the game, theirs are the only two names I'm hearing when people discuss possible winners.
Potential nominees abound, of course. Unlike many of our commenters, I like Hilary Swank, but can't foresee her winning a third, however good she is (or isn't) in "Amelia." Saoirse Ronan? Too young, and that role is awfully passive. Abbie Cornish? I hear lots of respect, but not much passion. Gabourey Sidibe? There's that age factor again, and besides, all the talk is about Mo'Nique. Having seen the film, I have a hard time imagining Penelope Cruz even getting a nomination, however much I like her work in "Broken Embraces." Charlize Theron? I see no reason why she couldn't (or shouldn't) be a two-time winner, but her film will struggle for attention.
Can the race already be down to two women before the summer is out? Surely not. Several of the pronouncements in the previous paragraph could fall under the category of famous last words, but which ladies are waiting in the wings — or out in left field — to surprise us? Any ideas?