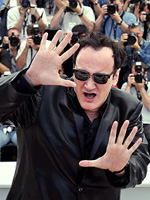 You'll be reading more and more about Quentin Tarantino's "Inglourious Basterds" (review) over the next week or so as the film prepares for an Auguest 21 release, but two specific pieces caught my eye today that I had to share.
Writing at Salon's Beyond the Multiplex blog, Andrew O'Hehir, who seems to have disliked the film but tries to steer clear of reviewing, conveys the sentiments of those who take what could be perceived as the easy road and have painted Tarantino, perhaps rightly, as an inconsiderate child whose work here is aimless, thoughtless, and in a nutshell, irresponsible:
Film critics and responsible authority figures in both Germany and Israel have almost unanimously announced that they dread "Inglourious Basterds," and can't see how it will contribute anything positive to the dreary world of post-Holocaust discourse.
In a separate piece across the pond in The Times, Tarantino seems to respond directly to this.
Says the director:
I'm reacting against that attitude…This complete victimisation of the war with the violin music and the anti-war aspect to everything. These self-serious movies have been the deal for the past 20 years, whereas back in the 1940s, when the f***ing war was going on, it wasn't sacrilegious to make a war movie that dared to be entertaining. So I'm not going to apologise for being funny, or for making an exciting adventure movie.
Back to O'Hehir:
My own view is that Quentin Tarantino has no serious opinions or convictions whatever regarding Nazis or Jews or the Holocaust. Beneath all his B-movie genre-worship, Tarantino remains a pomo disciple of Jean-Luc Godard, playing an elaborate game of bait-and-switch with his audience and seeking to disarrange the conventional stories — or stories about stories — we've got in our heads. More simply, he's just fucking with us.
But it's the Times article, written by Kevin Maher, that really connected with me.  It is perhaps the most thorough examination of the 21st century Tarantino I've come across, surgically twisting its way into his presumed mindset and
He admits that critical attacks can hurt him. "A mean or nasty turn of phrase, you ain't going to forget," he says. "But I don't take it too seriously, because obviously a lot of people are just not that into my s***." But the Cannes reactions were of another "quality" altogether, he says, and were directed personally at him and his presumption of genius — the movie, after all, ends with the line: "I think this just might be my masterpiece." "There was a level where I was being reviewed as much as the movie," he protests…

And yet, as the newer movies continued to roll in there was a sneaking sense that Tarantino was becoming a one-trick pony, a movie magpie who could speak only about other movies. There is thus a telling scene at the climax of Inglourious Basterds when the camera slowly reveals the entire film archive of a Parisian cinema, in a giant unspooled pyre, suddenly set alight. It seems to be a cathartic moment, or at least a metaphorical suggestion that Tarantino has reached a full stop of sorts.
Tarantino goes on to tell Maher about his intentions to retire from filmmaking by the age of 60, become a "man of letters," perhaps a film critic, and finally get around to the family he's always wanted.  It is, ultimately, a profoundly touching piece that is fair with its subject but certainly not cruel.  It's a dimensionalized portrait of a human being, and at this point, that's probably the best press Tarantino could ask for.
Oh, and just for fun — an oldie but a goodie: