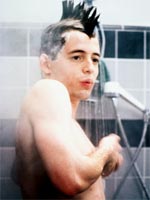 If anything good can be said to have from such a sad event, the premature passing of John Hughes has at least inspired an unusually high standard of obituary-writing. The personal connection still felt by an entire generation with his films has manifested itself in a number of heartfelt, idiosyncratic tributes from a wide range of voices.
As someone too young to have experienced the Hughes teen phenomenon first-hand — I was in diapers when he made his directing debut with "Sixteen Candles" — I've gained a lot of understanding this week as to why his work means so much to so many, and why that makes him an important filmmaker. While I've enjoyed several of his films, I'm looking forward to revisiting them from this perspective.
Meanwhile, the most interesting tribute I've read yet comes from an unlikely source: Washington lawyer Edward McNally, who grew up and attended high school with Hughes, and is rumored to be the inspiration for Hughes most beloved creation, Ferris Bueller.
McNally spends some time dwelling on the parallels between his and Bueller's teenage shenanigans, including skiving off school (he bunked 27 times in one semester, to Bueller's nine) and joyriding in his dad's sportscar (ineptly reversing the odometer afterwards). But the real substance of the article comes when he delves into the influence "Ferris Bueller's Day Off" continues to exert on his own life, and in the broader cultural spectrum.
Of course, McNally mentions Barbara Bush's famous quoting of a Bueller mantra in a 1990 college graduation address, but I particularly liked his supposed application of the film's philosophies in his own profession:
Whether or not we inspired Ferris, there's no doubt his Day Off in 1986 left a lasting legacy for me and many others. Some trial lawyers attempt to channel "The Art of War." Or lessons from the life of Genghis Khan. But the Tao of Ferris has its own wisdom. Hughes had Ferris talk directly to the camera. To us. He says, deal with your fear. Believe in yourself. Make sick days count. And: Do you realize that if we played by the rules, right now we'd be in gym?

In my service as a federal prosecutor and as a defense attorney, one key lesson from Ferris is his repeated message to his despondent buddy Cameron. Your current situation doesn't have to be your fate. There's always another way.
Great piece. Read the rest here.