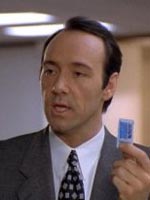 It's a few days old, but I only just got to this excellent Guardian piece in which Danny Leigh wonders whether Hollywood studio executives are done a disservice by the widespread perception of them as ruthless corporate shills with little sense of artistic responsibility. (An image best typified in semi-fictional form, of course, by Kevin Spacey's Scott Rudin-inspired honcho in "Swimming With Sharks.")
Arguing that the media is complicit in the dominance of auteur theory, by championing only the directors of critical hits while vilifying the backers of cynical commercial drek in the "Transformers" vein, Leigh fears that a number of dedicated studio heads — several of whom put a lot of time and resources into nurturing new, offbeat filmmaking talent — are getting the short end of the stick.
Heading Leigh's list of haloed examples is one-time United Artists chief Arthur J. Krim who, in addition to guiding a range of classic titles from "The African Queen" to "The Silence of the Lambs" to fruition, was the key enabler in the early filmmaking career of Woody Allen, giving him a remarkable degree of free rein to indulge his eccentric genius.
A young Allen might struggle to find a similarly supportive mentor today, though Leigh points to a number of current risk-taking auteurs, including the Coen Brothers and Paul Thomas Anderson, who enjoy healthy relationships with the suits. The key, Leigh argues, is realizing that the most valuable execs have both interest in, and knowledge of, the artform:
Then there's the assumption that the exec is automatically either ignorant of the art of film, or actively hostile to it. Again, I'm not convinced. I've talked to more than one director of often deeply independent natures who have told me with absolute sincerity that some of the most genuine cinephiles they've ever come across have been encountered while working for studios. And if there's one thing that was proved by the plethora of directors' cuts that spilled on to the market in the wake of DVD, it was that for every molested and mutilated Brazil there was another project where the creative judgment of the men in Armani suits turned out to be vindicated.
The discussion also puts me in mind of the vital role played by recently departed Fox Searchlight head Peter Rice in the unlikely journey of "Slumdog Millionaire" from DVD-bound obscurity to Oscar-minted crossover hit. (I remember Danny Boyle describing Rice as a "savior" at least three times in our interview.)
Admittedly there are edgier risks to take than banking on a sparky feel-good picture from an established director, but still, Rice's adoption of a small, star-free production, actively defending the filmmakers' decision to keep much of the dialogue in Hindi, remains a textbook example of an exec using their influence for good rather than evil, and benefiting his own career in the process. It can be done.
Read the rest here.