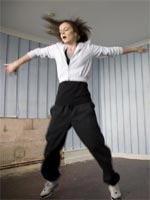 I mentioned last week how much Andrea Arnold's Cannes-garlanded Brit beauty "Fish Tank" has grown in my esteem over the weeks — I'm really starting to think the 3½ stars I gave it in my review was too cautious.
I wrote then that the film was still awaiting a Stateside distributor, and while I suspected its American premiere in Toronto would remedy that, it turns we didn't even have to wait that long. ScreenDaily reports that, unsurprisingly, it is once more IFC who have come to the rescue:
IFC Films has acquired US rights to Andrea Arnold's second feature Fish Tank following its world premiere in Cannes where it shared the special jury prize.

IFC's vice-president of acquisitions Arianna Bocco brokered the deal with UTA and Jamie Carmichael of ContentFilm International. Arnold is represented by Matthew Bates at Sayle Screen Ltd in the UK and Gersh in the US. IFC Films will release through its IFC In Theaters theatrical and VOD day-and-date platform.
I can't see "Fish Tank" getting much of a theatrical platform — apart from its generally bleak kitchen-sink outlook, its current of underage sexuality makes the film quite the tough sell — but I'm relieved that it will at least see the light of day across the pond. In a perfect world, this would be at the forefront of Best Picture and especially Best Actress discussion, but we'll take what we can get.
Meanwhile, IFC continues to polish its halo by continuing to act as a safehouse for tricky non-American fare, from "In the Loop" to "Red Riding" to "Antichrist." Bless 'em.
If you missed the trailer for "Fish Tank" last week, catch it here.