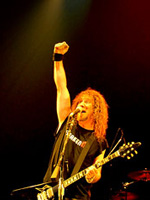 There has been some discussion in the comments sections here lately about the state of independent cinema.  Many feel, perhaps rightly, that with the closures of indie wings like Picturehouse, Warner Independent and Paramount Vantage that there is little asylum for independent films and filmmakers in Hollywood.
However, while it is easy to see things as somewhat disastrous, I have actually become more and more positive with the influx of "DIY cinema," both from a production and a marketing perspective, not to mention day-and-date and video on demand distribution strategies that can connect audiences to fringe titles quicker than the traditional system.
That is just the world Michael Cieply is digging into in this New York Times article, indicating the economy as a culprit in this growing trend and films like "Anvil! The Story of Anvil" as successful examples.
Here's a taste:
The glory days of independent film, when hot young directors like Steven Soderbergh and Mr. Tarantino had studio executives tangled in fierce bidding wars at Sundance and other celebrity-studded festivals, are now barely a speck in the rearview mirror. And something new, something much odder, has taken their place.

Here is how it used to work: aspiring filmmakers playing the cool auteur in hopes of attracting the eye of a Hollywood power broker.

Here is the new way: filmmakers doing it themselves — paying for their own distribution, marketing films through social networking sites and Twitter blasts, putting their work up free on the Web to build a reputation, cozying up to concierges at luxury hotels in film festival cities to get them to whisper into the right ears.
Read the rest here.