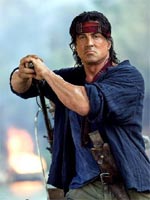 I'm as guilty as the next man of laughing off Sylvester Stallone in the face of his largely catastrophic latter-day film career, but I'm still willing to defend the man on a few counts.
"Rocky" has become one of those unfortunate good films needlessly punished for beating great films to the punch on Oscar night, and "Cop Land" isn't so distant a memory that we should entirely dismiss his onscreen ability. Hell, some people I know were making similar claims recently for "Rocky Balboa." (No comment.)
Nonetheless, I think the organizers of the Venice Film Festival may have taken such revisionist charity a bit far by awarding him the "Jaeger-Le Coultre Glory to the Filmmaker Award," which is given annually to "an artist" (ahem) "who has left his mark in contemporary cinema." Previous recipents include Abbas Kiarostami, Takeshi Kitano and Agnes Varda. I repeat: Kiarostami, Kitano, Varda … and Stallone.
If you think that's bizarre, wait until you read the press release that delivered the news to my inbox this afternoon, excerpted after the cut.
This year, the prize intends to celebrate Sylvester Stallone's stature as a filmmaker. Since the visionary race across the roofs on the opening credits of his first film as a screenwriter and director, Paradise Alley, Stallone has shown an original eye and an auteur's determination. His is a cinema capable of tenderness even when dripping with blood. With the now legendary franchises of Rocky and Rambo (he wrote all the scripts), Stallone travelled through the light and the darkness of the American Dream – each of those films remarkably anchored in its own present time.

Through all of his movies – even the ones he has not directed or are considered "less important" – Stallone  has shaped his own character with much care, and reflected upon it, giving us an iconic exploration among the most coherent and lucid of contemporary America cinema.
Well, I'll give them points for initiative, at least — no one else is putting the words "Stallone" and "visionary" together. But between this and nominating the Jonas Brothers movie for a festival award, aren't the powers that be at Venice overcompensating a little with the populist gestures?
(The award presentation, by the way, will be accompanied by a screening of Stallone's recently completed "Rambo: The Director's Cut," which I know you've all been clamoring to see.)