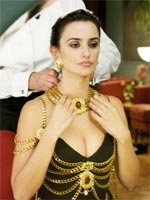 indieWIRE has the full lineup for this year's New York Film Festival, which runs from 25 September to 11 October, and at a glance, it looks remarkably like a greatest-hits lineup from May's Cannes festival.
This year, both the NYFF's opening and closing films have been plucked from the Croisette. Alain Resnais's "Wild Grass," for which the 87 year-old New Wave master received a special career-achievement award at Cannes, will kick off proceedings, marking the second year in a row that a French title has taken this high-profile slot.
Palme d'Or winner "The Class" opened NYFF last year en route to an Oscar nod. Whether a similar path awaits Resnais's film, a high-flown romantic melodrama which was very warmly reviewed in Cannes, of course depends on what the French choose as their entry from a bumper crop of possibilities.
Meanwhile, Pedro Almodóvar's "Broken Embraces" (which opens in the UK later this month) will close the festival, a task that fell to "The Wrestler" last year. For a film that has received mixed reviews upon its domestic release in March and again at its Cannes premiere, this is a considerable boost for its Stateside profile ahead of its Oscar-friendly November release date.
I saw and reviewed the film a month ago, and am still resolving my mixed feelings about it, though its a stunning feat of craft, steeped in film lore, that should make for an appropriate festival finale.
Among the films filling the Resnais-Almodóvar sandwich are two inevitable selections from Cannes: Michael Haneke's lavishly acclaimed Palme d'Or champ "The White Ribbon" and a little film we have mentioned once or twice called "Antichrist." (My review here.)
Other titles resurfacing at Cannes are "Police, Adjective," which more than one critic declared best in show on the Croisette and duly took Un Certain Regard honors, and Marco Bellocchio's biopic of Mussolini's "secret wife," for which Italian megastar Giovanna Mezzogiorno has garnered much European buzz.
As you may have gathered by now, it's a decidedly international lineup: other notable selections include Claire Denis's "White Material" and Jacques Rivette's "36 Views of Saint-Loup Peak," both of which will premiere at Venice next month, as well as Catherine Breillat's "Bluebeard" and Bong Joon-ho's "Mother," which has just been selected as Korea's Oscar entry. (More on that later.)
By contrast, the home team is looking rather injured, as only four American titles feature in the lineup. One of them, however, is a biggie: Sundance sensation "Precious" has been afforded the prestigious Centerpiece slot (held last year by "Changeling"), which will no doubt stand it in good stead for a significant awards-season run.
That aside, however, this year's NYFF looks like a very foreign affair indeed. Vive la différence, and all that. More here.