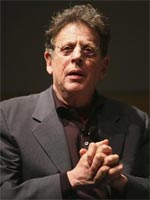 It's rather surprising that Philip Glass, arguably the foremost classical composer at work today (and, lest we forget, a three-time Oscar nominee), has never before been featured at The BBC Proms, the annual eight-week series of London concerts that essentially comprise the world's largest classical music festival.
But good things do occasionally come to those who wait, and the 72 year-old Baltimore-born composer will finally get his first Prom tribute tonight at the Royal Albert Hall, as violinist Gidon Kremer reprises his original rendition of Glass's signature 1987 Violin Concerto, while Glass's 2004 Toltec Symphony will receive its first UK outing.
In honor of the occasion, The Times carries an interesting interview with Glass, as he talks through his early career (when he worked as a plumber to pay the bills, unbelievably enough), his four marriages, and his latter-day status as a doyen of the artform in multiple media.
The conversation doesn't dwell much on his film score work, a subject I'd be fascinated to hear him discuss in greater depth — I've always been intrigued by the rather fickle creative impulses that have led to a selective but truly eccentric cinematic résumé in which daring arthouse experiments ("Mishima," "Koyaanisqatsi") rub shoulders with middlebrow prestige titles ("The Hours," "Notes on a Scandal") and more low-rent commercial fare ("No Reservations," "Candyman").
In an odd way, I quite like this lack of discrimination — in this statement, he explains his more populist leanings quite plainly:
Here's the interesting thing. I've done quite a few operas, more than 20, and I've probably done more than 20 film scores — I'm sure I have but they are both popular forms. The opera was always the popular art form of its day and so I've just moved from one popular art form to another.
Anyway, Glass's Proms debut will be broadcast live on BBC Radio 3 here at 22:15 GMT. I have a feeling the online stream might not be available outside the UK, but those interested might be able to access the podcast. I'm no expert.