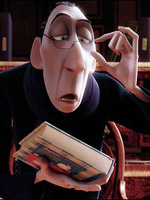 Boy I really need to get on the  ball when an idea crosses my mind these days.  Earlier in the week, Guardian writer Paul Harris beat me to the punch on an article I was spinning around concerning Hollywood's attraction to post-apocalyptic narratives as of late.  Now HitFix's Drew McWeeny has penned exactly the same kind of curious exploration of mainstream media critics' views of the American film-going public that I was hoping to get to this week.
McWeeny nails it.  In a nutshell, what the hell is it with the amount of hot air being blown by the self-important film criticism and journalism establishment toward audiences that have a right to go see what the hell they want lately?  Roger Ebert, Jeffrey Wells (no surprise there), A.O. Scott and Patrick Goldstein have all recently tossed around the idea of a coming "dark age" of movie intelligentsia, arrogantly dismissed the preferences of American audiences, bemoaned an overall lack of interest in what critics have to say and, effectively, as McWeeny puts it, declared that you all get off their lawn.
I think there is a conversation to be had about American distaste in quality cinematic entertainment.  I don't think it begins with insulting working people with higher concerns than what to see on a Friday night, however.  And I think the entire situation has pushed me that much further into an opinion I've held for a long time but never really had the guts to say in a public forum: Film criticism does not matter.  Yours, mine, the next guy's.  It's not precious, it's not a commodity and it has slowly ruined the art of filmmaking by establishing a criteria of sorts and a hierarchy of perceived quality, boxing in what it sets out to celebrate.
I know, I know.  "But you write about movies, Kris."  Yeah, that's right, but I certainly don't hold my own opinion so far above the next guy's that I think you owe it to yourself to read my thoughts.  I understand the critical fraternity is terrified as of late as entertainment bureaus become easy targets for corporations looking to save money with cut-backs.  But I also don't think there are many out there offering the same kind of valued film "analysis" (rather than the more facile "criticism") that made a name for the profession.
Some will find that opinion incredibly reckless.  But I've been around for long enough to recognize that film critics no longer move the needle.  Maybe it's because there hasn't been a fresh cinematic boom in this country in such a long time, but this old-timer complaining smacks of the same sort of nostalgic "back in my day" negative attitudes about the media (warranted in many cases, mind you) that couldn't be contained by a handful of my journalism professors who got into the game because of the rush of Woodstein in the 1970s.
But I digress.  McWeeny's thesis:
Film critics hate you.

You. Whoever you are, sitting wherever you're sitting, reading these words… chances are, film critics hate you right now.

Seems unfair, doesn't it? After all, what did you do?

You committed the greatest sin against a critic's work that is possible: you did not listen.

If you had listened, then "Transformers: Revenge Of The Fallen" would have had a $3 million opening weekend, while "In The Loop" would be racing towards the "Titanic" record right now.

So obviously, whoever you are, it's all your fault. All those remakes, all those sequels, all those amazing opening weekends for truly terrilbe films… you did that. And so you shouldn't be remotely surprised to learn that film critics hate you.
Is there any other way to put it at this point?  Most of this, of course, stems from the overall critical vitriol spewed toward two films the public embraced: "Transformers: Revenge of the Fallen" and "G.I. Joe: The Rise of Cobra."  Sure, perhaps many are missing the boat on a stealthy release pattern for "The Hurt Locker," but we live in an age of noise.  It takes either savvy or, the usual winner, intrusive marketing to get people's attention these days.  And I'm sorry, but perhaps a word-of-mouth-dependent strategy for an Iraq War film isn't the most recognizable among the chatter.
But then again, Summit has been quite successful with its release pattern for Kathryn Bigelow's film, claiming small victories here and there.  So what if the numbers aren't where a few aging critics and journalists (and even I) would like them to be?  To expect the film to compete with heavily marketed brands like the two Paramount pictures is absolute naivete.  McWeeny again puts it succinctly:
First, who out there seriously expected "The Hurt Locker" to be a major crossover hit with young audiences? The film is rated R, so anyone under 17 has to go with a parent, meaning it's not the choice when kids are out in groups on the weekend. And is there anything in any of the marketing or the publicity around the film that would indicate that Summit thought they were chasing the teenaged dollar with the film?  No?  Then what the hell are we talking about?
Now obviously I hold a slightly different view of the value of film criticism than McWeeny, but when he comes around to his core beliefs on the matter, I find myself curiously in-step.  This entire post represents a difficult viewpoint to put forth because I don't want to sound unappreciative and because I love a good, humble, personal assessment of a film's artistic or entertainment quality as much as the next guy.  But I like the way McWeeny sees things:
I don't think the job of a critic is to tell people what they have to go see.  I don't think the job of a critic is to rail against what is popular, or to insult the taste of the viewing public, or even to question it.  It's my belief that the job of a film critic is to offer up a perspective on films that is tempered by experience and by a broader film knowledge.  A film critic can describe their own experience, and hopefully place a film into context, whether social or artistic or historic, and if the film critic commits to a real body of work, hopefully the critic over time manages to leave behind a sort of emotional biography, using the films they've covered as touchstones along their own personal journey.
If more critics took up this philosophy of film writing, I think their work would steer a hard left out of the pompous, self-righteous place it finds itself in now and into the realm of actual art itself.  I won't hold my breath, however.
There's a lot to get to in McWeeny's piece.  He eventually brings up Glenn Kenny's recent rebuttal to all of this malarky and offers a necessary defense against Ebert's insinuation that the select online press who saw "G.I. Joe" early on were somehow doing some dark bidding for Paramount.  But read the rest of his thorough examination for yourself here.
What are your thoughts?  Do film critics really matter, even as it pertains to their stated mission?  Have your say in the comments section below!