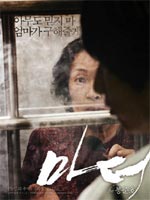 Thanks to The Film Experience for pointing out this news nugget: a month after Sri Lanka kicked off the convoluted, multi-tiered contest for Best Foreign Language Film by selecting their official entry, we have our first relatively high-profile submission, as Korea has entered Bong Joon-ho's "Mother" into the race.
Some might be surprised that the country's selectors passed over Park Chan-wook's "Thirst" — which won the Jury Prize at Cannes and has received an interesting Stateside promotional push from Focus Features — but they shouldn't be.
For one thing, the Koreans are probably as aware as any Oscar-watcher that the chances of the Academy blue-hairs going for an erotic vampire flick with healthy lashings of gore are, to put it gently, minimal. (It appears that "Thirst" was one of six films considered, however.)
"Mother," meanwhile, seems to fit more in the Academy's wheelhouse: a thriller-ish melodrama about a devoted mother trying to prove her mentally disabled son's innocence in a murder investigation, it drew very warm reviews in the Un Certain Regard section at Cannes, where several critics opined that it had been unjustly omitted from the main competition lineup in favor of "Thirst."
(In his Screen International review, likening the film to the work of Pedro Almodovar, Mike Goodridge presciently wrote that "it should comfortably beat "Thirst" to the Korean Oscar submission.")
Bong Joon-ho is a rising auteur in his own right: best known in the U.S. for the crossover horror smash "The Host" and his contribution to this year's undervalued portmanteau film "Tokyo!," he really impressed me with his elusive, blackly comic neo-noir "Memories of Murder" in 2004. Here's hoping "Mother" is on that level — check out the trailer below.
By the way, try as I might to keep up with the vast stream of entries into the foreign-language Oscar derby, some information does occasionally slip through the net. So if any international readers know of an official submission that we haven't mentioned yet, do let me know.