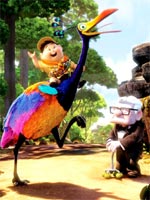 Last month I mentioned that the Venice Film Festival is making a rather large gesture of faith in the current 3-D fad by introducing a new award for the best 3-D film of the year. The prize will be awarded by a separate three-person jury comprising critics Dave Kehr and Scott Foundas and experimental filmmaker Nadia Ranocchi.
The award is not limited to films competing at the festival — but in case you didn't get that, the point is made abundantly clear by this frankly bizarre 9-title shortlist for the gong that was unveiled yesterday. Via Variety:
"Battle for Terra" (Aristomenis Tsirbas)
"Coraline" (Henry Selick)
"The Hole" (Joe Dante)
"Ice Age: Dawn of the Dinosaurs" (Carlos Saldana)
"Jonas Brothers: The 3-D Concert Experience" (Bruce Hendricks)
"Journey to the Center of the Earth" (Eric Brevig)
"Monsters vs Aliens" (Rob Letterman and Conrad Vernon)
"My Bloody Valentine" (Patrick Lussier)
"Up" (Pete Docter)
Now as you know, I have my own reservations about 3-D, so the very concept of the award strikes me as a bit silly to begin with, but way to throw credibility out of the window at the outset. By any standard, any award that pits a non-film like the Jonas Brothers effort and a plainly worthless film like "Journey to the Center of the Earth" against an actual artistic achievement like "Coraline" is issuing an open invitation not to be taken seriously.
But why should this be the case? Instead of "nominating" essentially every 3-D theatrical release of 2009, why not be a bit more discerning and offer a shortlist of, say, five films that actually (in their view, at least) excelled with the technology? A nomination should mean something, even if it's for a throwaway inaugural award instituted merely to add some commercial sheen to a resolutely arthouse festival. (Notice how it's an all-American list?) If ever there was a case study for the benefits of smaller nominee fields — hint, hint — this is it.
I've suspected for a while that the award was in large part drummed up to bolster the career-achievement Golden Lion being presented to John Lasseter and Pixar at this year's fest — it'll look even more like a sop if "Up" wins, of course. Given that there's no credibility or tradition at stake here (and I doubt the award will be around for long anyway), it'd be nice to see the jury have a bit of fun and go for something totally counter-intuitive.
So, uh, go Jonas Brothers?