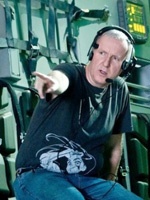 James Cameron's "Avatar" is ramping up as "Avatar" Day swiftly approaches.  Some think there is a conscious effort afoot to tone down expectations, while others are more and more unable to contain themselves at the industry prospects represented by the film.  All the while, a December release date inches closer.
Will it be a game changer?  Will the world be the same the next day?  Will we all remember where we were when "Avatar" was unleashed to the masses?  It's getting that out of hand in some quarters.
Me, despite a definite sense of anticipation, I checked my expectations long ago.  The Comic-Con footage was great, but I've become more of a "show me" kind of guy as of late.  Burned too many times, I guess.  What hasn't settled, however, is the reason the hair on the back of my neck stood on end when we all got our first glimpse.
"It wasn't that the material was so new and ground-breaking, which it certainly is on some levels," I wrote at the time.  "It was because it was so audaciously original and inventive.  I echo the sentiment of an audience member, who said before asking his question, 'Thank you for making something that's original, something that's not a remake or a sequel.'"
In a recent exclusive interview with Hero Complex's Geoff Boucher, Cameron got into those notions of originality in the face of an increasingly derivative Hollywood mindset.  Boucher also got a look at some extra footage that us Comic-Con attendees did not see, so he's much more qualified to be grilling the helmer than most.
Here's what Cameron had to say:
It's simultaneously one of the great strengths and one of the potential weaknesses. We have no brand value. We have to create that brand value. "Avatar" means something to that group of fans that know this film is coming, but to the other 99% of the public it's a nonsense word and we have to hope we can educate them. Well, I shouldn't say a nonsense word – it doesn't mean anything specific in terms of a brand association. And in fact there may be even a slight negative one because more people know about the Saturday morning cartoon, the anime, than about this particular film. We've got to create that [brand] from scratch. On the other hand, ultimately, it is probably the film's greatest strength in the long run. We've had these big, money-making franchise films for a long time, "Star Trek" and "Star Wars," you know, "Harry Potter," and there's a certain sort of comfort factor in that; you know what you're going to get. But there's no kind of shock of the new that's possible with that. It's been a while since something that took us on a journey, something that grabbed us by the lapels and dragged us out the door and took us on a journey of surprise.
The interview is the first of a two-parter.  I'm sure I'll point to the second part when it goes live, but for now, check out the rest at Hero Complex.