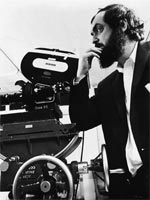 "Aryan Papers" is a title that is probably familiar to keen students of the great Stanley Kubrick, representing as it does a sadly missed opportunity in his abruptly curtailed career.
For the uninformed, however, it's the name of a Holocaust-themed Kubrick screenplay that he was due to direct for Warner Bros. in early 1990s, before the arrival of Steven Spielberg's similarly targeted "Schindler's List" compelled director and studio to shelve the project.
Now it appears that Kubrick's family is seeking to resurrect the project, which is still owned by Warner Bros., with Kubrick's brother-in-law (and executive producer on his last four features) Jan Harlan leading the charge.
The Times reports:
Harlan said the studio should employ a leading director such as Ang Lee, who made the Oscar-winning Brokeback Mountain, to bring Kubrick's vision to the screen. He said he would happily become involved in the project again.

"I regret it never got made but it was a decision made by Kubrick and Warner Bros, probably very wisely at the time," said Harlan, the brother of Kubrick's wife Christiane … Warner Bros said it was unable to confirm if it had any plans to resurrect the film.
The script is an adaptation of "Wartime Lies," the highly acclaimed debut novel by Polish-American writer and Holocaust survivor Louis Begley (who also penned "About Schmidt"). It tells the story of a young Jewish woman and her nephew escaping Nazi persecution by masquerading as Catholics. (It is inspired by events in Begley's own childhood.)
Obviously, there's not much to this story other than one man's wish, but it's an enticing prospect all the same. Of course, even if the film were ever to get made, it would give us little indication of what vision Kubrick might have brought to the now-shopworn cinematic territory of the Holocaust, but it'd be poignant to see the man get one final screen credit.
(Meanwhile, the cynical among us could speculate that a Holocaust film would represent Kubrick's best shot at an Oscar to date, but that's hardly the most interesting thing about the idea.)