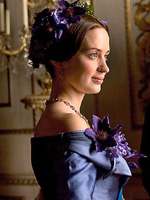 Bob Berney's new outfit is filling out nicely, having acquired "Bright Star" out of Cannes, announcing plans to release Terrence Malick's "The Tree of Life" in 2009 last week and now, snatching the domestic rights to Jean-Marc Vallee's "The Young Victoria."  Anne Thompson has the scoop:
Over the weekend, Apparition closed a U.S. distribution deal for Toronto Film Festival closer The Young Victoria, starring Emily Blunt in what could be her breakout role carrying a movie as the youngest British monarch. As is typical these days, the new distrib run by Bob Berney and backer Bill Pohald did not put up a minimum guarantee, but rather beat out several competitors (including Miramax, Overture and Roadside Attractions) by committing to $4.5 million in P & A and a 250-screen release. Appariiton will open the movie November 13.
Guy saw the film upon its UK release and wasn't particularly impressed by it, indicating that there was not enough "incident and complication in Julian Fellowes's unusually trim script to sustain our interest in its heroine."  Emily Blunt may yet find some room if the BAFTA block shows its support.  But even Guy offered high marks for co-star Rupert Friend, who might be someone to watch in the supporting actor category.
Regardless, costumer Sandy Powell might have jumped headlong into the Oscar race with this pick-up.  Apparition already has a period piece in "Bright Star" to promote in the technical categories, and Powell, of course, will be well-represented in Julie Taymor's "The Tempest" (where I have her predicted presently).  But it's always good to have multiple irons in the fire when it comes to these fields.
There are still a number of films awaiting domestic distribution.  "The Young Victoria" will close this year's Toronto International Film Festival after a number of them will have played and, perhaps, found a buyer.  The season sure is beginning to take shape.