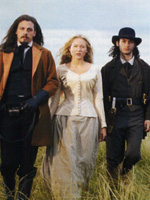 Guy briefly mentioned this in Friday's round-up, but I thought I'd address it more fully here.
I kind of feel like I owe it to myself and to Ang Lee to give his forthcoming re-edit of "Ride with the Devil" a look.  This is, of course, despite a severe personal disinterest that settled in when I first saw the film 10 years ago.  But as a fan of the western genre, it seems only right to see what Lee originally had in mind.
I wasn't aware, as Anne Thompson discusses in a recent piece, that the film represents the only project Lee ever edited away from his vision at a studio's request.  It doesn't sound significant, but apparently the 11 minutes Lee trimmed (from an original 146-minute running time) were significant enough that Focus Features honcho (and frequent Lee collaborator) James Schamus has decided to dipped into the Focus-owned Polygram library to restore Lee's version of the film.
Here is what Lee had to say on his replenished vision:
Most of all, the new movie has breadth and pacing…More plot and action. All the information is laid out. There's a big action war sequence that is longer and more detailed. It feels more epic. It makes a big difference to me.
I'm willing to take Lee at his word here.  I think he's the right mind for the genre, something he capably. returned to (in more contemporary terms) with "Brokeback Mountain" in 2005.
The new cut of "Ride with the Devil" screened last night at the Lincoln Center in New York as part of a Lee retrospective, but it will be available on DVD and Blu-ray in May of next year.  May?  Really?  Can't we find a reason to launch it sooner?  The theatrical or home video release of "Taking Woodstock," maybe?  Six months is ridiculous.
Anyway, read the rest over at Thompson on Hollywood.