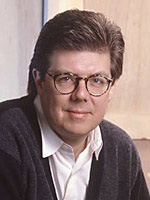 I'm stilling a bit bummed from the news of director John Hughes' sudden passing last week in New York.  Even though he was years past his prime, these things come to mark the end of an era and signify an abrupt change that is, well, slightly unwelcome.
The tributes and remembrances have been coming fast and furious, of course.  But my favorite take so far has come from the newly tube-bound A.O. Scott, who penned this surprisingly thoughtful dedication in The New York Times over the weekend.
In remembering the Hughes films that molded a generation, Scott goes so far as to compare the director to French New Wave titan Jean-Luc Godard for his adeptness at harnessing the attitude of the populace.  As I wrote in my brief last week, "Hughes got an entire generation."
Here's a taste from Scott's piece:
I don't think I'm alone among my cohort in the belief that John Hughes was our Godard, the filmmaker who crystallized our attitudes and anxieties with just the right blend of teasing and sympathy. Mr. Godard described "Masculin Féminin," his 1966 vehicle for Jean-Pierre Leaud and Ms. Karina, as a portrait of "the children of Marx and Coca-Cola." Mr. McCarthy and Ms. Ringwald, in "Pretty in Pink," were corresponding icons for the children of Ronald Reagan and New Coke.

Which is not to say…that Mr. Hughes's movies provide a literal or comprehensive picture of that time. A lot of stuff is left out. Politics, for one thing. Black people, for another. And like many other filmmakers who solicit the favor of young audiences, Mr. Hughes has been faulted for smoothing over too many rough edges and softening harsh social and psychological realities.

The response, which will never satisfy some critics, is that his films are fables…it is as fairy tales rendered from experience, rather than as blunt records of life, that his mid-'80s movies live on. They capture — with a winning mixture of optimism and melancholy, with a generosity of spirit tempered by a punitive sense of right and wrong — something essential in the experience of youth.
Read the rest here.