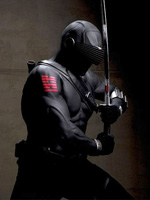 I haven't "G.I. Joe: The Rise of Cobra" yet.  I wasn't one of the Paramount chosen and I've been moving my girlfriend up to San Francisco this weekend, but at some point, we do plan to dish out our hard-earned cash in town for a look-see.  Color me curious.
Anyway, David Poland has put together a nice new feature at The Hot Blog called "Super Movie Friends," collecting a few movie minds to discuss what's going on at the multiplex.  Below is the excerpt where they discuss "G.I. Joe."
indieWIRE's Anne Thompson and Poland clearly hated the film.  CHUD's Devin Faraci, God bless him, has the thankless job of defending it.  And KTLA's Toni Molle hasn't seen it so she just kind of sits there, listening to Poland call "Speed Racer" sophisticated and Faraci chalk "Joe" up to a 10-year-old boy's kind of film that you're "supposed to laugh at," among other talking points.
Take a look after the jump.