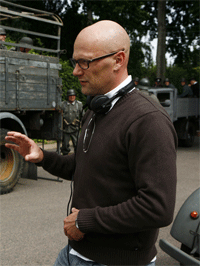 Since opening in its home country of Denmark over 18 months ago, and embarking on a lengthy festival tour that included well-received stops in Toronto, Telluride and London last year, Ole Christian Madsen's "Flame & Citron" has taken its sweet time arriving in American theaters. (It opened in limited release last Friday.)
But then patience has been evidently a watchword throughout the conception and execution of this handsome WWII biopic-cum-thriller, a long-gestating pet project for 43 year-old Dogme 95 alumnus Madsen.
For starters, the story of the titular duo has been nagging away at him since the age of 12 – ever since his father, a former army colonel, gave him a book on heroes of the Nazi Resistance.
The story of Flame and Citron (aliases for Bent Faurschou-Hviid and Jorgen Haagen Schmith), a pair of native freedom fighters working against the German occupation in 1940s Copenhagen, fired the young Madsen's imagination, as he sensed a greater moral ambiguity behind it than the history written on the page.
"As a kid, I would stare at their portraits all the time," he explains over the phone from Los Angeles, where he has been promoting the film. "They both fascinated and scared me, and I sensed there was something dark and untold in their story. My father was always very conflicted about the Danish role in WWII, and told me not to believe all the written history. So I've always wanted to address that in a film."
The ambiguity of which Madsen speaks refers to the complex sequence of events by which the Danish Resistance eventually turned on their own people, supposedly assassinating the traitors in their midst but making many morally questionable calls in the process.
The film negotiates these multiple shades of gray in minutely studied detail, anchored by a brace of terse, taut performances from Mads Mikkelsen ("Casino Royale") and Thure Lindhardt. (Both men were rewarded with European Film Award nominations for their pains.) At 136 minutes, it's a leisurely historical wallow that, in its stately middle-arthouse stylings and thriller overtones, is partly of a piece with recent European WWII studies like "Black Book" and "The Counterfeiters," but uncovers a milieu that is far less familiar – even to local audiences.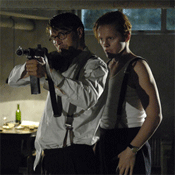 "Very few people knew about these guys in Denmark," Madsen says. "They were celebrated and appreciated immediately after the war, but by the time the 1960s and 1970s made pacifism more popular, they were largely forgotten. For years, I wanted to make a film that would revive and reassess their reputation, but nobody wanted to finance it. Nobody cared."
Madsen therefore kept the project on a slow simmer at the back of his mind while he busied himself on more modestly scaled projects, until 8 years ago, he met screenwriter Lars K. Andersen – who coincidentally shared Madsen's childhood obsession with Flame and Citron. They began researching the project together, rummaging through archives and interviewing assorted Resistance survivors, until after five years, a marked spike in interest came from investors.
Madsen attributes the upswing both to the proliferation (and success) of recent WWII dramas, and the increased currency of the subject matter in light of the Iraq conflict. (Indeed, a late scene seems to nod – intentionally or otherwise – to the Abu Ghraib scandal.) "The Second World War is such a huge story … it's the biggest we've ever had. So there will always be films made about it. But the film's discussion of guerrilla warfare, the whole gray area of such conflict, is quite contemporary. I think whenever there is a war on, there's always more public interest in the subject."
All of which is not to paint the film as some kind of earnest informational slog – it is, before anything else, a complex but classically presented thriller, owing much to film noir in the intricacy of its narrative and the lush, shadow-drenched stylization of its visuals. Jean-Pierre Melville's masterful 1969 Resistance thriller "Army of Shadows" (which only reached American screens in 2006) has been repeatedly cited as an influence by both Madsen and multiple critics.
"I'm starting to wish I hadn't ever mentioned it!" the director laughs. "I hadn't actually seen it before I started work on the film, but once I did, I was inspired by the way it told its story through only rituals and dialogue. It's undeniably the best film about the Resistance ever made." Slightly more obliquely, he also names "Apocalypse Now" as a touchstone: "War films aren't interesting if they're about war … they must be about how you lose yourself in war."
In fashioning the story as a thriller, Madsen and Andersen made some judicious adjustments to the facts, but he insists that they historical essence remains untainted. "It depends who you ask," he says in a sly tone. "Americans would say we changed nothing. In Europe, they're slightly more puritan about how history should be presented on film."
What was of more concern to Madsen was deepening the history books' perspective of Flame and Citron themselves. "When I began this project years ago, I thought of them simply as heroes. But now, having spent so long with them, I've come to see them as normal, flawed human beings." He pauses, framing his next words carefully. "Here, the fiction tells the fact."