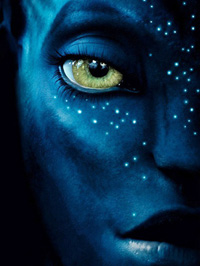 "How did they do that?"  Movie-goers often ask this in response to spectacular visual effects, one of few elements of a film, apart from acting, directing or story, that a studio might choose to sell a film directly on.
Not surprisingly, the Academy's award for Best Visual Effects is definitely the most mainstream-friendly of all of all.  $100 million grosses and higher are the norm.
This branch also has a somewhat unusual process for choosing the nominees.  A shortlist of seven films will be announced in December or January and members of the branch will screen effects presentation reels of the films from that collective to nominate three contenders announced alongside the rest of the Oscar nominees.
Probably leading the field this year, sight unseen, is James Cameron's "Avatar."  Cameron's last five films have all been nominated in this category…with four of them winning!  Moreover, "Avatar" seems certain to be, like most Cameron efforts, a showcase for the visual effects.  Of course, the film could also be an unmitigated disaster, but barring that I would be quite surprised if it did not find itself among the nominees.
On the other hand, we have already seen several films likely to end up in the running.   Michael Bay's "Transformers: Revenge of the Fallen" was absolutely wretched in this viewer's opinion.  But considering its massive box office take, not to mention the nature of the effects and the success of Bay's films in this category in the past, I feel a nomination is quite likely.
J. J. Abrams's "Star Trek," however, was a pleasant surprise to many.  The well-reviewed reboot of this classic franchise is likely to receive some respect from AMPAS.  And while the "Star Trek" films have only received intermittent love from the Academy, I suspect this effort is likely to return the series the group's good graces.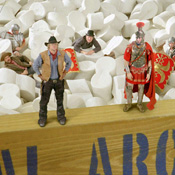 The "Harry Potter" films have had an even more rocky path to date.  While three of the five efforts have garnered at least one nomination, seldom have those nominations been predictable and only once has the series been cited in this category.  "Harry Potter and the Half-Blood Prince" was not only one of the better films in the series but also featured some of the better visual effects.  I'm sure it will end up among the shortlisted, but with a strong trio heading the pack already, it could be tough to muscle into the final nominees.
Other summer titles such as "Night at the Museum: Battle of the Smithsonian" and "Terminator Salvation" strike me as the sort that may, if lucky, be shortlisted to the final seven.  But I very much doubt they'll be among the final three.
I have similar reservations about "2012," a film set for release smack in the middle of the Oscar season.  I expect it to be very reliant on digital wizardry, so if it manages to strike something of a chord with the branch, it could very well end up in the running.
"Watchmen" was one of the year's first big releases, and despite being a respectable critical and box office hit, and with the visual effects being pivotal to the movie, the work remains the sort of innovation that usually does not find a home among the nominees.  "300" and "Sin City" experienced similar fates in recent years.  Even so, I still think the title deserves a mention here.
"G. I. Joe: The Rise of Cobra" is a film I had no faith in whatsoever.  But to date (and it admittedly does not open until Friday), it has received surprisingly positive word (from the online press, that is).  I'm not sure if it could manage a nomination over fellow summer titles "Star Trek" and "Transformers," but one never knows.
I'll finish with two efforts from directors who know how to use visual effects: Spike Jonze and Peter Jackson.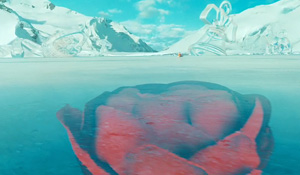 Jonze is stepping onto dangerous territory with "Where the Wild Things Are." Maurice Sendak's beloved book does not naturally lend itself to a feature length film.  But it is a classic with Sendak's blessing and Jonze knows how to make a good, innovative film.  The look will be pivotal to its success and Jonze knows how to blend effects into his movies.  Even so, I'm not convinced the effects will be showy enough for a nomination.
And I have no idea what Jackson will do in "The Lovely Bones."  The trailer gave us some suggestion, but little else.  But Jackson is a master when it comes to visual effects.  His last four films obviously have won this category but even his earlier efforts cleverly used effects to both wow the audience and service the story.  We'll see how this film plays out.  The trailer is intriguing but nevertheless somehow felt underwhelming to me.
Four categories down…five to go.  Toronto is just around the corner.  What are your thoughts on the Best Visual Effects category?