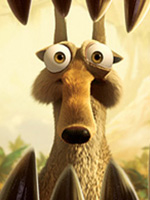 Those who follow the site know I'm a "Finding Nemo" devotee.  The film has grown on me more and more over the years, and despite landing at #3 on my 2003 top 10, I've been toying with the idea of including it in my top 10 films of the decade list (which will be unveiled later in the year).  I've always felt a certain security knowing that, not only is it Pixar's highest grossing film to date, but it is also the second-highest grossing toon worldwide and the top box office dog internationally.
Or at least it was.  In a Variety piece gloomily (to me) titled "Nemo slips on 'Ice,'" Pamela McClintock gives us this:
Over the weekend, 20th Century Fox's three-quel "Ice Age: Dawn of the Dinosaurs" became the highest-grossing animated title ever overseas, posting a cume of $551.4 million through Sunday.

It took six years for a toon to overtake Pixar and Disney's "Finding Nemo," which grossed $524.9 million internationally in its 2003 release.
Depressing.  Chad's Sunday Cents column on the film's opening weekend here.  Of course, with Chad's preference of adjusted figures, this doesn't move the needle.  But still.