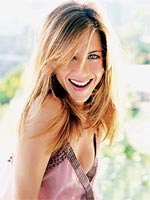 Call it summer silliness or the fact that I truly am a moron after all, but for all the intriguing projects announced in the last month — Cronenberg taking on DeLillo should be a treat, while I'd be lying if I said my curiosity isn't perversely piqued by Joe Eszterhas telling the story of the Virgin of Guadalupe — but this is the one my heart really wants to see. One sentence, via Variety:
"Grey Gardens" helmer Michael Sucsy will make his feature directorial debut on "Goree Girls," with Jennifer Aniston headlining the true story of an all-female country band in a Texas prison in the 1940s.
What can I say? Jennifer Aniston and country music rank about equally high on the list of things that nobody thinks I should love, but that I love anyway. (And hey, female prison dramas aren't bad either.) And since the woman was robbed of a Best Actress nod in 2002, I keep hoping her next project will be the one to restore order.
But c'mon … this one's period! It's a true story! She'll have to sing! Talk about playing right into Oscar's hands. (Amount of tongue in writer's cheek to be determined by reader. And that's a dig at the Academy, not Jen.)